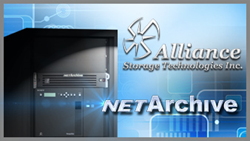 We're still seeing considerable demand for archive technologies that support fast, reliable, random access but without the cost or complexity of tape or HDD based systems
Colorado Springs, CO (PRWEB) November 16, 2016
Alliance Storage Technologies, Inc. (ASTI), the leader in professional data archiving solutions, today announced a partnership with OPEX-IT Group Ltd., a United Kingdom distributor, serving clients throughout EMEA.
"We are pleased that OPEX-IT has chosen to partner with Alliance Storage Technologies to provide the best in class data archiving solutions. The group will be a strong addition to our growing partner network and expand presence in EMEA," remarked ASTI CEO, Chris Carr. "Our new NETArchive solution is synergistic with OPEX-IT's focus on cutting-edge technologies."
OPEX IT Group is a next generation distributor working directly with disruptive, cutting-edge technology manufacturers such as ASTI to help deliver the latest innovations to customers. As a new breed of value-added, sales centric distributor, Opex Group specializes in the delivery of flexible, pay-as-you-grow solutions coupled with unparalleled levels of sales activity and business generation services for partners.
"We're still seeing considerable demand for archive technologies that support fast, reliable, random access but without the cost or complexity of tape or HDD based systems," added Zahid Anwar, one of the OPEX founders. "High-capacity optical is simply the most irrefutable medium for long-term archiving of large data volumes and therefore, the best way to store information in compliance with regulatory authorities. NETArchive makes optical storage relevant in the data center again by combining it with disk and cloud in a single platform."
OPEX intends to sell and promote ASTI's new NETArchive data archiving solutions throughout the European marketplace. The NETArchive® is a purpose-built data archiving solution that offers leading edge technology and features required by today's modern data centers. Through an innovative modular architecture, NETArchive offers multiple storage tiers consisting of NAS RAID, optical and cloud to create a robust and secure solution that can be tailored to meet the needs of today's archive market.
Alliance Storage Technologies anticipates that the partnership will bring tremendous value to their marketplace which serves customers in a variety of industries including financial, government, healthcare, and insurance. "We're delighted to add OPEX-IT to our EMEA based selling organization and look forward to a long-term partnership with the group," added Bill Gallagher, Director of Worldwide Sales at ASTI. "OPEX-IT will focus on selling our NETArchive solution to new and existing customers to solve their most complex data archiving challenges."
NETArchive, with its powerful integrated data management software, adapts to any business, organization, or industry, and provides customers with a more reliable, flexible, secure alternative to tape and disk for permanent storage of archived data at a lower total cost of ownership. With elastic scalability, the solution can accommodate enterprise archives from 45TB to 802.5TB within a single rack, small to medium archives up to 15TB, and simultaneously expand infinitely offline or to the cloud.
Contact ASTI to learn more about the OPEX-IT/ASTI relationship or to learn how the NETArchive can change the way you archive data.
About OPEX-IT Group Ltd
As a new breed of value-added, sales centric distributor, Opex Group specializes in the delivery of next generation technologies coupled with unparalleled levels of sales activity and business generation services. The OPEX Group model aims to empower technology companies to bring innovation to customers and focus sales efforts where it matters most. http://www.opex-it.co.uk/ or call +44 (0)23 9298 6242.
About Alliance Storage Technologies, Inc.
Alliance Storage Technologies, Inc. (ASTI) is the primary source for professional data storage archiving solutions worldwide. Integrated and scalable professional data archiving solutions preserve data unaltered for extended periods (greater than 50 years) at an exceptionally low total cost of ownership. Best-in-class global support services are available to sustain customer installations. ASTI's systems provide value to any industry including Healthcare, Finance, Government, Insurance, Legal, and more. Thousands of businesses worldwide trust ASTI quality to secure their valuable investments in corporate data.
For further information, please visit http://www.alliancestoragetechnologies.com , or call 719-593-7900.