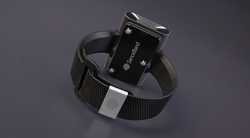 By combining the features of a fitness tracker with an overall reading of emotional states, Sence can help manage stress and vitality levels and better understand what emotions people feel and when
New York, NY (PRWEB) November 16, 2016
Planexta Inc. has announced it has been given CES Honoree awards in both the Wearable Technology and Fitness, Sports and Biotech categories for SenceBand, their emotion-tracking smart bracelet. Products entered in this prestigious program are judged by a preeminent panel of independent industrial designers, independent engineers and members of the trade media to honor outstanding design and engineering in cutting edge consumer electronics products across 28 product categories.
Sence is the very first wearable capable of tracking 64 different emotional states from one wrist. It uses a clinical-grade ECG (EKG)-tracking technology and sophisticated algorithms to track consumers' bodily data that was previously only available to astronauts, professional athletes and military personnel with access to expensive machinery.
"Our team is so proud to finally see our technological dream come to fruition. We're giving the everyday person access to technology that we truly believe will give them unprecedented control over their physical and emotional health". – Eugene Nayshtetik, CEO of Planexta Inc.
The prestigious CES Innovation Awards are sponsored by the Consumer Technology Association (CTA)TM, the producer of CES 2017, the global gathering place for all who thrive on the business of consumer technologies, and have been recognizing achievements in product design and engineering since 1976.
Planexta's SenceBand will be displayed at CES 2017, which runs January 5-8, 2017, in Las Vegas, Nevada.
Entries are evaluated on their engineering, aesthetic and design qualities, intended use/function and user value, unique/novel features present and how the design and innovation of the product directly compares to other products in the marketplace.
Products chosen as CES Innovation Honorees reflect innovative design and engineering in some of the most cutting edge tech products and services coming to market.
CES 2017 Innovation Honoree products are featured on CES.tech/Innovation, which lists product categories, as well as each product name, manufacturer information, description, photo and URL.
For more information about SenceBand check out their live Kickstarter campaign using this link: SenceBand Kickstarter campaign