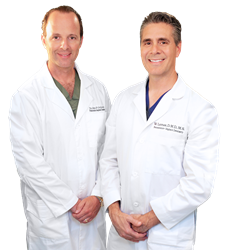 Miami, FL (PRWEB) November 15, 2016
Drs. John Paul Gallardo and William P. Lamas are joining the fight against pancreatic cancer by supporting Lauren's Face the Day Purple Day 2016 event set for November 17, 2016. The event is being planned entirely by volunteers who live and work in the local Coral Gables, FL community and have been affected by the disease.
The South Florida periodontists and dental implant specialists will be donating a free comprehensive dental evaluation as well as Philips Sonicare FlexCare Platinum toothbrush kit for one raffle winner. One hundred percent of the funds raised in the event will be donated to the Pancreatic Cancer Action Network to help advance research, support patients, and create hope.
Because periodontal disease has been linked to heart disease, strokes, diabetes, respiratory diseases, pregnancy complications, and pancreatic cancer, it is important for the doctors to raise awareness and funds to fight the disease. In fact, researchers have discovered that men with periodontal disease are 54 percent more likely to develop pancreatic cancer.
"As a healthcare provider, we have an obligation to make our patients aware of the significant impact that oral health can have on other systems in the body," said Dr. Gallardo.
Pancreatic cancer is the third leading cause of cancer deaths in the United States. Pancreatic cancer has the lowest survival rate of the major cancer killers, yet it receives the least amount of federal research funding.
Seven years ago the co-founder of Lauren's Face the Day, Alan Sales, was diagnosed with stage 4 Pancreatic Cancer. The team at Lauren's Face the Day Spa decided that a change needed to be made and Purple Day was founded. Although Alan lost his battle, Lauren's Face the Day continues the tradition with an evening event at the Spa that hosts live entertainment, food, wine, raffle prizes and an auction. For the last few years, the events have raised over $25,000.00 for Pancreatic Cancer Action Network.
Drs. Gallardo and Lamas each have an extensive background in periodontics and implant dentistry. Dr. Gallardo attended the University of Miami, New York University, and Boston University. Dr. Lamas is an alumnus of Barry University, the Florida College of Dentistry, and Baylor College of Dentistry-TAMUS. Both doctors are avid educators, routinely lecturing at conferences, both nationally and around the world. The doctors also offer a wide range of continuing education programs for students and dental providers in southern Florida.
To learn more about Drs. Gallardo and Lamas click here. New patient consultations with Dr. Gallardo and Dr. Lamas are free. As an added service, the patient coordinator will run a courtesy benefits check during the initial appointment, then review all payment options and financing choices.