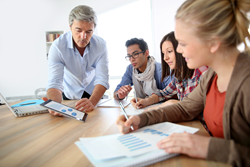 "The primary goal is to provide an opportunity to every CRANE pathway student to display and share the quality work that he or she creates during the pathway experience." -Louise Stymeist, CRANE Program Manager
SACRAMENTO, California (PRWEB) November 16, 2016
Capital Region Academies for the Next Economy (CRANE) has recently teamed up with Portfolium, an e-portfolio platform, to provide students with an important project-sharing tool as they prepare for their chosen careers. The partnership between CRANE and Portfolium represents a commitment to students' long-term success, as services will be made available throughout 45 high schools in the greater Sacramento region. CRANE's focus is the foundational need for creating skill sets designed for high wage, high growth career sectors – Portfolium paves the way for students to showcase those unique skills in a powerful, meaningful way.
CRANE has worked to ensure high school education includes clear connections to both college and career readiness, developing pathways for the constantly shifting workforce. Included in the programming developed by CRANE are unique opportunities for students to advance their academic, technical, and creative skills in a focused manner, all which can be put to work long after their high school experience has ended.
Louise Stymeist, CRANE Program Manager explains the benefits of the partnership, stating, "The primary goal is to provide an opportunity to every CRANE pathway student to display and share the quality work that he or she creates during the pathway experience." In addition, CRANE is optimistic about the opportunities that the partnership with Portfolium offers for the long-term, including garnering feedback from industry partners that benefits the organization and students alike.
The partnership with Portfolium gives CRANE pathway students the tools necessary to maintain a visual repository of their school-related and extracurricular experiences and present their e-portfolio to potential employers and higher education institutions on demand. The partnership was a clear choice for CRANE as Amalong explains, "In addition to being a scalable, sustainable digital portfolio tool, we chose Portfolium because of the integration with the California Community College, California State University and University of California systems." These partnerships have proven successful for the college students and alumni within each system, playing a critical role in documenting and sharing skill sets and past work creatively that match employer's needs.
"We welcome CRANE pathways and their talented high school students to showcase and build their skills and application of knowledge, develop career paths, educational plans and goals, all while becoming better prepared for college and the workforce," says Troy Markowitz, VP Partnerships at Portfolium.
Launched in 2014, Portfolium has remained true to its inaugural purpose of enhancing the creation and availability of individualized online portfolios for students and alumni. Instead of simply allowing users to list their previous work and educational experiences, Portfolium provides a digital, cloud-hosted landscape for personalized data with evidence of attained skills while providing specific features that make the platform a social experience as well.
CRANE is widely praised for its alignment of high school and college curriculum through work-based learning experiences. To this end, the organization has also partnered with Nepris, a collaborative tool used to connect industry leaders with students and educators. Along with adapting Portfolium, CRANE plans to make available a robust collection of web-based tools which students can use to ensure ongoing career and college success. In the coming weeks, the focus will be on training CRANE staff in how the Portfolium platform can be used to engage students with their initiatives through the pathways program.
ABOUT CRANE PATHWAYS: The mission of CRANE is to provide students in the Capital Region rigorous academic and career pathways, which are linked to economic and labor market needs and trends, thus helping students to become the leading entrepreneurial workforce for the next economy.
ABOUT PORTFOLIUM: Portfolium partners with colleges & universities to help students connect learning with opportunity. Our ePortfolio network helps 5M+ students and alumni from over 190 partner institutions manage their skills and launch their careers. Portfolium's evidence-based approach empowers students with lifelong opportunities to capture, curate, and convert skills into job offers, while giving learning institutions and employers the tools they need to assess competencies and recruit talent.
For More Information: Portfolium.com; Edgar Rodriguez, contact(at)portfolium(dot)com; (951) 256-7301