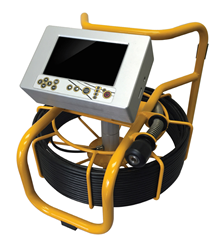 (PRWEB) November 16, 2016
The new TRITON Portable sewer camera is a logical continuation of the Triton product line of heavy-duty drain and sewer inspection systems. This unit is made in Canada and combines portability and compact size with the traditional rugged design and extreme durability. The stainless steel camera head, protected with an anti-scratch sapphire lens is 1.23'' in diameter. The metal coil right behind the camera adds flexibility and makes it easier for the camera to navigate bends and corners. The camera head features an integrated 512Hz sonde transmitter or beacon compatible with any locator of the same frequency. The advanced ¼ CCD sensor ensures a high quality image.
The camera DVR comes in machined aluminum housing for increased durability. It has a large 7.4'' color display protected with an acrylic cover. Unlike most comparable products the new TRITON is equipped with a wifi module in order to establish a connection between the unit and a smartphone, tablet or any other mobile device. This way the user can visualize and record the inspection remotely. The still images and video recordings can also be stored on a USB memory stick. A separate USB recording feature is available as an option. In addition, the camera controller possesses an on-screen footage counter and an on-screen text generator to take notes directly during the inspection.
The 125' (38 meters) long push rod is placed on a solid reel made of powder coated steel tube frame. The push cable is Kevlar braided for increased protection and longevity. The total weight of the unit is only 29 lbs. (just over 13 kg).
The new TRITON Portable sewer camera is a highly reliable inspection tool. It is made exclusively of durable, solid components and does not contain any plastic, breakable parts. It is designed particularly for pipes between 1.5'' and 6'' in diameter depending on the pipe configuration and the presence of bends and corners.
Fiberscope.net is the industrial division of MEDIT and one of the leading suppliers of equipment for remote visual inspection. Operating from two facilities located in Boston, USA and Winnipeg, Canada, MEDIT serves an international market and offers reliable borescopes, fiberscopes and inspection cameras. TRITON is a premium line of cameras for pipe and duct inspection.