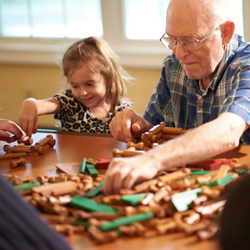 Lincoln Logs turns 100!
Hatfield, PA (PRWEB) November 16, 2016
K'NEX Brands, the only US construction toy company focused on Building Worlds Kids Love®, is excited to celebrate the 100th birthday of LINCOLN LOGS in 2016!
Developed in 1916 by John Lloyd Wright, the son of famous American architect Frank Lloyd Wright, LINCOLN LOGS has been entertaining children for 100 years. Licensed by Hasbro, LINCOLN LOGS, a brand known for quality and durability has become more than just a toy…it's an authentic piece of Americana! In 2015, in anticipation of the centennial, production of the iconic log building toy was brought back to the United States for the first time in nearly 60 years!
Beloved for generations, playing with LINCOLN LOGS has become a rite of passage. If you haven't played with a LINCOLN LOGS building set in a while the smell of the real, authentic wood once the tin is opened is guaranteed to bring back memories! K'NEX recently brought 2 generations of fans together for a LINCOLN LOGS play date at the Wiley Christian Retirement Community in Marlton, NJ. The residents and children had a blast building together and it was all captured on film! The video can be viewed on the official LINCOLN LOGS Facebook page and has captured nearly 200,000 views on YouTube in less than 2 weeks!
The 2016 made in the USA LINCOLN LOGS line includes the 100th Anniversary Tin, Collector's Edition Village, Country Meadow Cottage, Forge Mill Cabin and more!
LINCOLN LOGS Building Sets are available NOW on knex.com and at all major toy retailers.
HASBRO and its logo, and LINCOLN LOGS are registered trademarks of Hasbro, and are used with permission. Developed and distributed by K'NEX. © 2016 Hasbro, Inc. All Rights Reserved.
About K'NEX Limited Partnership Group
Founded in 1992, K'NEX, a wholly owned subsidiary of Smart Brands International Co., LLC, did not set out to become an educational toy company. All it wanted to do was show kids that the only limit to building was the size of their imagination! 25 years later, K'NEX prides itself on connecting Science, Technology, Engineering, Arts, and Math with imagination. STEAMagination can be found in every K'NEX set and with it building dreams become a fun-powered, 3-D reality! Winner of over 380 awards and recognitions, the K'NEX product line has building toys specially designed for every age group and skill level. The K'NEX family of brands includes K'NEX® Building Sets, K'NEX Thrill Rides, K'NEX Education®, K-FORCE Build and Blast®, Mighty Makers®, Mario Kart™, Super Mario™, Plants vs. Zombies™, LINCOLN LOGS® and TINKERTOY® both under license from Hasbro, and more! From the living room to the board room, we are proud to help build the leaders of tomorrow! Join us at http://www.knex.com.
About Hasbro
Hasbro is a global play and entertainment company committed to Creating the World's Best Play Experiences. From toys and games to television, movies, digital gaming and consumer products, Hasbro offers a variety of ways for audiences to experience its iconic brands, including NERF, MY LITTLE PONY, TRANSFORMERS, PLAY-DOH, MONOPOLY, LITTLEST PET SHOP and MAGIC: THE GATHERING, as well as premier partner brands. The Company's Hasbro Studios and its film label, Allspark Pictures, are building its brands globally through great storytelling and content on all screens. Through its commitment to corporate social responsibility and philanthropy, Hasbro is helping to make the world a better place for children and their families. Learn more at http://www.hasbro.com, and follow us on Twitter (@Hasbro & @HasbroNews) and Instagram (@Hasbro).
###