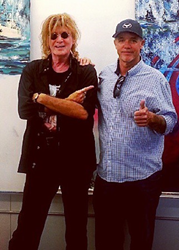 (PRWEB) November 15, 2016
Legendary painter and photographer, Dick Zimmerman http://www.dickzimmerman.com/who has created portraits for hundreds of iconic celebrities including, Tom Cruise, Michael Jackson's "Thriller", John Travolta and was personally commissioned by Salvador Dali to create his 50th wedding anniversary portrait with Salvador Dali's wife, Gala, has joined forces with acclaimed artist, Wyland, 'Artist of the Sea'. Wyland and Zimmerman are currently working on their 10th iconic collaboration, from Salvador Dali to Vincent Van Gogh.
Wyland http://www.wylandgalleries.com/, is best known for his large outdoor murals of buildings featuring images of life-size whales, and other sea life. Today, the Wyland name has become synonymous with the new generation of awareness about environmental conservation. His photography, paintings and sculptures are so inspiring, that Wyland has helped educate a generation about the importance of marine life conservation.
The artists met at a prestigious Art festival in Fort Lauderdale, Florida and developed a mutual respect for one another.
"I have the highest respect for Dick, he is right at the top of the list of 'the greats'," says Wyland.
"I am excited for what this collaboration has in store. I have no plans to stop and will continue to be inspired by Wyland and the icons we are capturing," says Zimmerman.