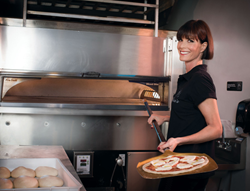 I loved the theater that is the restaurant. It's where I feel alive.
(PRWEB) November 17, 2016
Though some women are mourning the defeat of America's first female major-party presidential candidate, Thea Goldman has already broken the glass ceiling as a pizzaiola, owner and operator. Miami-based Thea's is featured on the November cover of the world's leading pizzeria trade publication, PMQ Pizza Magazine— only the second time in its nearly 20-year history that a female pizza chef has graced its influential cover.
The cover image depicts the London-born Goldman expertly wielding a pizza peel in the kitchen of her understated yet glamorous restaurant. Thea's menu offers handmade gourmet pizzas made with upscale fresh ingredients like artichoke cream, Gorgonzola, figs, arugula and truffle oil, plus artisan salads, soups and sandwiches on homemade bread baked to order.
As a teenage model, Goldman walked the runways of Paris, Tokyo and New York City, but her true passion remained delicious, lovingly crafted food, especially pizza. "What I really loved to do was eat and be around food," she recalls. "I loved the theater that is the restaurant. It's where I feel alive."
Two battles with lymphoma before age 21 motivated Goldman to grab her life's dream. In 2007, her first Miami restaurant, Joey's, in the then-desolate Wynwood Arts District, helped launch a neighborhood now celebrated for its hip, artsy-gritty vibe. Now she's again revolutionizing the local food scene with a thoroughly patron-focused restaurant in Miami's city center.
Goldman's career experiences have nourished a willingness to listen closely to others—especially customers. "As an owner, you have to be in constant data-collection mode," Goldman says. "You have to ask what they liked, receive anything they didn't like, and be really grateful for criticism if you get any. That's how you build your business—not by thumbs-ups and cheering."
The menu strategy at Thea's echoes another major 2016 election theme: Meet consumers' hunger for authenticity. Thea's simply makes food people want to eat. The non-trend-driven fare stands out, in fact, for its utter lack of pretension in a city rife with glitzy facades. "There was less ego from us—trying to show who we are—and more focus on who they are," Goldman explains. "What would be comfortable, easy and enjoyable for them, the working customer?" Her mind immediately flew to pizza.
Stretching dough by hand and cooking each pie to order was a newer idea for the area, so Goldman doled out her cell phone number to guests, encouraging them to text or call in orders for the lunchtime rush. She also encouraged sampling, setting pizzas on tables for people to try. "I was confident in the ingredients and the product," she recalls. "We just did it the way we wanted to do it, and I hoped that everyone would be curious enough to try it. Inspiring curiosity was critical."
When her customers requested dinner service, Goldman listened—but decided, of course, to do it her way. Every couple of weeks, she opens her doors for dinnertime three-course supper club gatherings, which sell out a month in advance. "We want our lunch customers to feel they own this place, and it's exciting that they get to come at night."
Goldman's entire approach relies on being more than a name on a business storefront. She greets patrons by name, constantly scans the room: Is the room temperature too cold or too hot? Is the music too loud? Is the food arriving on time? Goldman notices before customers do. She even deejays through lunch, playing appropriate songs for the moment and adjusting volume according to clientele.
Meanwhile, the entirely black interior of Thea's provides a theatrical, blank-slate backdrop. "It's almost as if you've painted a stage, and the customers are the most important players on that stage," Goldman muses. "It's a way of signaling, in a very subtle way, that they are the most important people in that room."
The monochromatic scheme also sets off the one dramatic splash of color in the room—a mosaic composed of 250,000 Venetian glass pieces. Goldman commissioned the wall-length work, which features an array of flowers: peonies, daffodils and roses.
 
Goldman's extreme attention to detail has won Thea's numerous awards and rave reviews, placed the restaurant on a slew of "best of" lists, and even landed Goldman an appearance on the Cooking Channel's Pizza Masters. Now, she's made the cover of PMQ, the pinnacle of pizza publishing prominence. But, in a national era of stark divisiveness, this pizzaiola is most proud of bringing people together. "I take it very seriously that young people in their first jobs or hard-working, hourly-wage people bring me their money," she says. "I never want to let them down. We have ladies who lunch from Palm Beach in the same room with construction workers, and they all feel comfortable. They all feel it's their place. And it is."