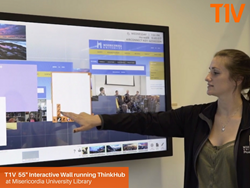 [ThinkHub] has changed the space of the library dramatically...each of the individual study rooms has ThinkHub technology, so [students] can share ideas not just on a whiteboard, but on an interactive screen."
Dallas, PA (PRWEB) November 17, 2016
Misericordia University, a liberal arts and pre-professional studies institution of higher education in northeastern Pennsylvania, enrolls more than 2,800 full- and part-time undergraduate and graduate students. The University partnered with T1V to deploy eight 55" Interactive Walls running ThinkHub collaboration software throughout the group study rooms of its campus library.
Misericordia's library leadership recognized that the student walking through the door today has grown up with laptops, smartphones, and devices that expose them to information 24/7 - their expectations of technology were not being met by the current library offering. So the Misericordia team began to rethink the square footage of the library, repurposing space to accommodate less books, and more room for group study. It was at this stage the team discovered T1V's ThinkHub collaboration technology as a solution to redesigning the Misericordia library to more closely align with students' expectations and work habits.
ThinkHub is a software-based solution that replaces much of the hardware that we associate collaboration systems with today, and supports unlimited BYOD (bring your own device) connectivity across Mac, iOS, Windows, and Android platforms. So no matter what type of device, platform, or program students are using to conduct their studies, they can share their content and devices to the ThinkHub Canvas wirelessly to annotate, edit, and collaborate with their fellow team members. When they are done with their ThinkHub session, students can then email or save the ThinkHub Canvas, or resume that same session at a later date.
Jenn Luksa, Misericordia Library Director, says "[ThinkHub] has changed the space of the library dramatically...each of the individual study rooms has ThinkHub technology, so [students] can share ideas not just on a whiteboard, but on an interactive screen."
"ThinkHub allows students to collaborate, create, have conversation, discuss, debate their projects, their presentations…", says Mark Stull, Serials and Electronic Management Specialist at Misericordia University. He continues, "T1V has enhanced our ability, or the students' ability, to reach those goals. We hope this is just the beginning of T1V on this campus, the possibilities are endless…"
About T1V
T1V is an interactive software company specializing in multitouch, multiuser applications for enterprise, education, event, and retail environments. The company's ThinkHub collaboration software features BYOD (bring your own device) technology, designed to support the many devices, programs and platforms that today's workforce uses on a routine basis. Together with ViewHub presentation software, T1V's suite of collaboration software represents total meeting room solutions that are replacing much of the hardware we equate meeting room technology with today.
Our products are developed to increase organizational productivity, creativity and innovation by facilitating unparalleled engagement and interaction for its users.
To learn more visit t1v.com
About Misericordia University
Misericordia University is a Catholic university in northeast Pennsylvania, founded by the Sisters of Mercy, that provides caring, motivated students with a challenging education.
To learn more visit misericordia.edu