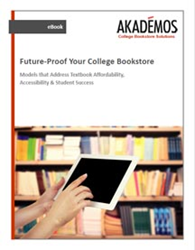 This new eBook provides key insights to help colleges and universities select a future-proof model that is right for their unique needs
Norwalk, CT (PRWEB) November 17, 2016
Akademos, Inc., a leading provider of college bookstore solutions and integrated online marketplaces for educational institutions and campus stores, announced today the availability of a new eBook highlighting bookstore models that help institutions better meet growing student demands for lower-cost textbooks, more choice and greater convenience. The eBook uncovers new insights into how the bookstore plays a pivotal role in a future-proof course materials strategy that can effectively compete with low-cost third party websites and support an institution's transition to digital learning materials.
This exclusive new eBook, which is available for free and can be requested at http://hubs.ly/H05bmKx0, explores:

The primary reasons institutions are moving to new bookstore models
Key factors to consider when selecting a new model
Several future-proof bookstore models offering greater long-term financial stability
Tips for ensuring a successful transition to a new bookstore
The eBook also delivers many actionable recommendations administrators and campus shop operators can use as a resource to help transition to a sustainable, future-proof bookstore model.
"The internet and mobile technology have completely transformed the way educational materials are produced, purchased, delivered and consumed. This new eBook provides key insights to help colleges and universities select a future-proof model that is right for their unique needs," said John Squires, chief executive officer, Akademos. "Through its experience supporting hundreds of institutions across the country, Akademos has seen first-hand how college bookstores need to transform into an educational platform and best-in-class service that directly supports an institution's core mission of driving student success."
About Akademos
Akademos offers customized, online bookstore services and solutions that support what's most important to institutions - from full-service virtual bookstores to unique partnerships and products supporting on-campus shops. Akademos delivers cost savings on course materials for students while providing administrators and faculty with critical control over the textbook delivery process.
Akademos offers an innovative textbook marketplace, best-in-class eCommerce platform, eLearning solutions, and a unique adoption and analytics portal. The company's comprehensive supply-chain solution and commitment to responsive personal service makes it the choice of leading institutions throughout the country.
Akademos helps institutions deliver the right course materials, at affordable prices, on time. Learn more at akademos.com.