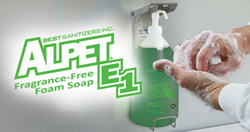 We saw a need for an NSF E1 rated hand soap in the food processing industry.
Nevada City, CA (PRWEB) November 17, 2016
Best Sanitizers, Inc. continues to provide food processors with high-quality hand hygiene products by adding the new Alpet® E1 Fragrance-Free Foam Soap to their line of professional hand soaps. Designed for the food processing industry, Alpet E1 is perfect for those food processors and food service companies who don't require a sanitizing soap in their SOPs. Practicing proper hand hygiene is a key component to reducing cross-contamination in food processing facilities, making it crucial for food industry workers to use a product designed for their specific needs.
Alpet E1 is a fragrance-free hand soap with rich, thick foaming properties. It is FD&C colorant approved, meets Safer Choice standards and is NSF registered. It is available in a 1250mL cartridge and a one-gallon bottle. The Alpet E1 1250mL cartridge can be used with the VersaClenz Manual or Touchless Dispenser. This versatile system can dispense 16 different products including sprays, foams, liquids, lotions, soaps and sanitizers. In the gallon size bottle, Alpet E1 Fragrance-Free Foam Soap can be dispensed with one of Best Sanitizers' stainless steel, industrial dispensers. These options include the 1-2 Knockout Wrist-Activated Dispenser and EZ Step Wall-Mounted Foot-Activated Dispenser. All units are stainless steel and offer hands-free activation, helping to eliminate increased possibility for cross-contamination. For food processors looking for a smaller footprint, the one-gallon bottle can also be placed in the Stainless Steel Gallon Wall Bracket. Its simple design and stainless steel construction makes clean up a breeze.
Proper hand hygiene practices are crucial in controlling pathogens, making it imperative for facilities to be equipped with the products they need. However, each facility is different and not all food plants require a sanitizing hand soap in their SOPs. "We saw a need for an NSF E1 rated hand soap in the food processing industry," states Ryan Witt, Best Sanitizers' Vice President of Sales and Marketing. "We want to provide food industry professionals with the tools they need to reduce cross-contamination."
By adding Alpet® E1 Fragrance-Free Foam Soap to Best Sanitizers full line of hand soaps, food industry workers now have one more option to consider when choosing a high-quality hand soap for their facility. Best Sanitizers, Inc. carries a wide variety of products designed to help food processing and food service companies reduce cross-contamination including, sanitizing hand soaps, hand sanitizer sprays and foams, surface sanitizers, industrial cleaners, boot scrubber units and footwear sanitizing systems. For more information on Best Sanitizers' products please visit: http://www.bestsanitizers.com or call 888-225-3267 x126.
About Best Sanitizers, Inc:
Since 1995, Best Sanitizers, Inc. has been providing the Food Processing, Janitorial Sanitation and Healthcare industries with the highest quality hand soaps, hand sanitizers, industrial cleaners, surface sanitizers and dispensing options available. These products are used in over 9,000 U.S. food processing facilities. Best Sanitizers was the first company to achieve an E3 rating for an alcohol-based hand sanitizer, the first to achieve a D2 rating for an alcohol/quat-based surface sanitizer, and continues to explore new and innovative ways to deliver hand hygiene and surface sanitation solutions.