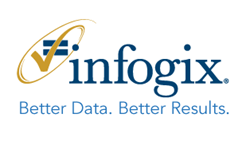 This year's trends examine the evolving ways enterprises can realize better business value with big data and how improving business intelligence can help transform organization processes and the customer experience.
Naperville, IL (PRWEB) November 16, 2016
Infogix, a leader in helping companies provide end-to-end data analysis across the enterprise, today highlighted the top 10 data trends they foresee will be strategic for most organizations in 2017.
"This year's trends examine the evolving ways enterprises can realize better business value with big data and how improving business intelligence can help transform organization processes and the customer experience," said Sumit Nijhawan, CEO and President of Infogix. "Business executives are demanding better data management for compliance and increased confidence to steer the business, more rapid adoption of big data and innovative and transformative data analytic technologies."
The top 10 data trends for 2017 are assembled by a panel of Infogix senior executives. The key trends include:
The Proliferation of Big Data

The proliferation of big data has made it crucial to analyze data quickly in order to gain valuable insights
Organizations must turn the terabytes of big data that is not being used, classified as dark data, into useable data
Big data has not yet yielded the substantial results that organizations require to develop new insights for new, innovative offerings to derive a competitive advantage
The Use of Big Data to Improve the Customer Experience

Using big data to improve the customer experience by moving from legacy to vendor systems, during M&A, and with core system upgrades
Analyzing data with self-service flexibility to quickly harness insights about leading trends, along with competitive insight into new customer acquisition growth opportunities
Using big data to better understand customers in order to improve top line revenue through cross-sell/upsell or remove risk of lost revenue by reducing churn
Wider Adoption of Hadoop

More and more organizations will be adopting Hadoop and other big data stores, in turn, vendors will rapidly introduce new, innovative Hadoop solutions
With Hadoop in place, organizations will be able to crunch large amounts of data using advanced analytics to find nuggets of valuable information for making profitable decisions
Hello to Predictive Analytics

Precisely predict future behaviors and events to improve profitability
Make a leap in improving fraud detection rapidly to minimize revenue risk exposure and improve operational excellence
More Focus on Cloud Based Data Analytics

Moving data analytics to the cloud to accelerate adoption of the latest capabilities to turn data into action
Cut costs in ongoing maintenance and operations by moving data analytics to the cloud
The Move toward Informatics and the Ability to Identify the Value of Data

Use informatics to help integrate the collection, analysis and visualization of complex data to derive revenue and efficiency value from that data
Tap an underutilized resource – data – to increase business performance
Achieving Maximum Business Intelligence with Data Virtualization

Data virtualization unlocks what is hidden within large data sets
Graphical data virtualization allows organizations to retrieve and manipulate data on the fly regardless of how the data is formatted or where it is located
The Convergence of IoT, the Cloud, Big Data, and Cybersecurity

The convergence of data management technologies such as data quality, data preparation, data analytics, data integration and more
As we continue to become more reliant on smart devices, inter-connectivity and machine learning will become even more important to protect these assets from cyber security threats
Improving Digital Channel Optimization and the Omnichannel Experience

Delivering the balance of traditional channels with digital channels to connect with the customer in their preferred channel
Continuously looking for innovative ways to enhance the customer experience amongst all channels to achieve a competitive advantage
Self-Service Data Preparation and Analytics to Improve Efficiency

Self-service data preparation tools boost time to value enabling organizations to prepare data regardless of the type of data, whether structured, semi-structured or unstructured
Decrease reliance on development teams to massage the data by introducing more self-service capabilities to give power to the user and, in turn, improve operational efficiency
"Every year we see more data being generated than ever before and organizations across all industries struggle with its trustworthiness and quality. We believe the technology trends of cloud, predictive analysis and big data will not only help organizations deal with the vast amount of data, but help enterprises address today's business challenges," said Nijhawan. "However, before these trends lead to the next wave of business, it's critical that organizations understand that the success is predicated upon data integrity."
For more information about Infogix, please visit http://www.infogix.com. To use this release as an infographic, check out: http://www.infogix.com/resource/top-ten-transformative-data-trends-2017/.
About Infogix, Inc.
Infogix helps solve business challenges by analyzing data as it moves through complex business environments to improve the customer experience, corporate profitability and operational efficiency. The Infogix Enterprise Data Analysis Platform improves data quality, ensures effective transaction monitoring, provides balancing and reconciliation, identifies and predicts fraud and customer behavior. Infogix provides best-in-class solutions that seamlessly integrate into operations and allow clients to manage highly complex, data intensive business environments. By analyzing, processing and monitoring 100 percent of data in real-time or in batch, Infogix is able to provide proactive and actionable intelligence to manage operational workflows and steps. To learn more visit http://www.infogix.com or @Infogix.