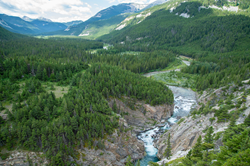 The Secretary's actions recognize this special area for what it is – too wild to drill
Washington, DC (PRWEB) November 16, 2016
Today the Department of Interior canceled the largest remaining block of contested leases in the sacred Badger-Two Medicine area of Montana. Today's news comes after a decades-long struggle between the Blackfeet Nation and the government to cancel several oil and gas leases that the Wilderness Society believes were issued illegally.
"The Secretary's actions recognize this special area for what it is – too wild to drill," said Peter Aengst, Northern Rockies regional director for The Wilderness Society. "We are happy to see the Blackfeet Nation's longstanding request finally being honored."
The 130,000-acre Badger-Two Medicine, which sits in Montana's Rocky Mountain Front and on the doorstep of Glacier National Park, is central to the Blackfeet Tribe's cultural identity. It is known as a place of prayer, fasts and vision quests—a holy place. The grasslands, forests and rugged terrain also provide necessary habitat for wildlife like grizzly bears, elk, wolverines and many other species.
In 1981, the Department of Interior, under the Reagan Administration, began issuing leases in Badger-Two Medicine without full environmental review or consulting the Blackfeet people, in what The Wilderness Society views as a direct violation of National Environmental Policy Act regulations.
Because the leases were improperly issued and violate key environmental laws, the Department of the Interior had the legal authority under the Federal Policy Land Management Act and moral obligation to the Blackfeet Nation to cancel remaining federal oil and gas leases in the Badger-Two Medicine. For these reasons, in April 2016, Secretary Jewell cancelled the Badger Two Medicine leases held by Louisiana based Solenex who had proposed drilling in the area and sued the government for delay. Today's action applies the largest remaining leaseholder in the Badger Two Medicine, Devon Energy of Oklahoma.
"This area represents the cultural heart of The Blackfeet Nation which should continue to beat strongly for years to come," said Aengst. "The leases never belonged here in the first place. All oil and gas drilling on public lands must be held to a higher standard and subject to proper environmental review."