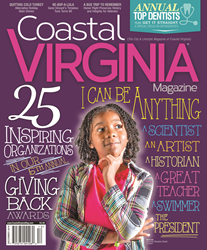 The work these students do at Horizons sets them up for success in their own lives and makes them contributing members of our society.
Chesapeake, VA (PRWEB) November 22, 2016
Each year, Coastal Virginia Magazine's Giving Back Awards recognize 25 nonprofit organizations "who are making huge impacts and inspiring others to do the same." In the November/December 2016 issue, Horizons Hampton Roads topped this year's list as the most inspirational nonprofit in the region.
Horizons is a transformational, community-centered education program working to close the opportunity and achievement gaps for low-income children in Kindergarten through 12th grade. Horizons includes six weeks of academics, arts, sports and more each summer through partnerships with independent schools, colleges, and universities across the nation. Horizons students gain 8-12 weeks of reading and math skills each summer, learn to swim, and enjoy year-round support. 99% of Horizons high school students graduate and 91% go on to college.
David Rogers, President of The Rogers Agency, is honored to serve on Horizons Hampton Roads' Board of Directors, and he credits the students' impressive achievements as his motivation for joining the organization. He explains, "These children come from the lowest income levels where we traditionally see the highest drop-out rates. The work these students do at Horizons sets them up for success in their own lives and makes them contributing members of our society."
"It's difficult to find a path out of poverty without a college degree, yet low-income students are six times more likely to drop out of high school," says Dick Trowbridge, Executive Director of Horizons Hampton Roads. "Horizons students build relationships with teachers and peers that make real and lasting differences in their self-confidence and the ability to reach their goals. Now in our 18th year, we are excited to have students who started Horizons in the first class of Kindergarteners who graduated from college this spring."
Horizons Hampton Roads partners with the public school systems in Norfolk, Portsmouth, and Virginia Beach to select students for the summer program. This summer, over 400 students from about 60 public schools attended Horizons at Norfolk Collegiate School, Portsmouth Catholic Regional School and Virginia Beach's Chesapeake Bay Academy. These independent schools generously provide their facilities every summer to host Horizons and support our community.
With Coastal Virginia Magazine's 2016 Giving Back Awards #1 nomination to Horizons Hampton Roads, Whole Foods Market in both the Newport News and Virginia Beach locations will donate 5% of all their sales on January 4th, 2017. This "5% Day" community program is part of Whole Foods Market's commitment to support their local communities with both funding and awareness. On January 4, 2017, local customers can shop Whole Foods Market knowing 5% of their purchase will get invested back in our local community to help the most vulnerable children in Hampton Roads combat the summerslide and achievement gap in our region.
For more information, please visit http://www.horizonshamptonroads.org or call (757) 412-0249.
About Horizons National
Horizons National is a network of transformational, community-centered education programs that put children on a path to success in school and life. Horizons programs are closing gaps of opportunity and achievement for low-income children by providing a high-quality learning experience outside of the traditional school year. A child typically starts at Horizons the summer before entering Kindergarten and returns year after year through 12th grade. Students attend the six-week summer program on campuses of independent schools, colleges, or universities. Days at Horizons include academics with an emphasis on literacy, STEM, and art in small classes led by professional teachers. Swimming and other confidence-boosting activities break down barriers to success and expose children to new opportunities.