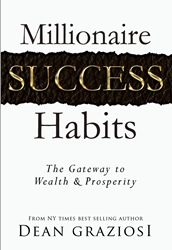 With the right success habits, this is the greatest time in history to thrive. People who have these habits, and these strategies, flourish.
Scottsdale, Arizona (PRWEB) November 18, 2016
Despite a rapidly changing economy and seemingly unstable, even scary, times, multiple New York Times best-selling author, entrepreneur and multi-millionaire Dean Graziosi feels that now is the best time to prosper and build wealth. In fact, he is ready to put his money where his mouth is and pay it forward by sharing complimentary copies of his transformational new book.
Graziosi went from living in a trailer park as a kid, only completing a high school education, and being a car mechanic in his early 20s, to making a pivotal decision to obsessively search and discover the secrets to wealth. Today, Graziosi has achieved a great amount of financial success and has become one of the most sought after success trainers in the world.
Now he's on a mission to empower people globally with 10 easy-to-apply habits and skills he learned to transform his own business and life.
To create an opportunity for others, he is kicking off his new book launch, "Millionaire Success Habits," by giving away 10,000 hardcover copies. The book also comes with complimentary tools and action worksheets.
"Dean Graziosi has the unique ability to take what others make so complicated and boil it down to a recipe for success that anyone can follow," said Larry King, Emmy Award-winning host of "Larry King Now."
"Millionaire Success Habits" details the small shifts people can instantly make to flip the success switch and have a true path to more wealth, abundance, and joy. Graziosi boils down the success habits into simple, easy-to-follow recipes that are able to fit in people's busy lives so they immediately start to see positive results. These habits are designed to become second nature as people learn how to become more persuasive without selling, attract the right people and opportunities, and create an income and life they love.
"This is the book the country and the world need right now," Graziosi said. "With the right success habits, this is the greatest time in history to thrive. People who have these habits, and have these strategies, flourish. And those who don't feel left behind."
To get your free copy of Millionaire Success Habits for a limited time visit http://www.deansbook.com.
"Dean is the type of entrepreneur that makes the world a better place," said Sir Richard Branson.
About Dean Graziosi
Dean Graziosi is one of the most watched success trainers of our generation. He has touched the lives of millions of people around the world with his powerful inspiration and tactical training. Dean has been a New York Times best-selling author since 2006 when he released his first book "Totally Fulfilled." Since then, Graziosi has gone on to become a top leading author and educator for those seeking success in real estate investing and success.