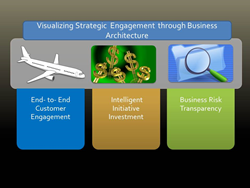 The course equipped me with the language, knowledge and tools needed to align business and operating models and represent what the business does via a formal discipline that is business architecture. Raazi K
Soquel, California (PRWEB) November 16, 2016
Business Architecture Associates training courses are based on the formal framework and best practices outlined in "A Guide to the Business Architecture Body of Knowledge®" (BIZBOK® Guide), developed by the Business Architecture Guild. BAA courses provide a strong foundation for preparing business architects to sit for the Certified Business Architect (CBA)® exam. Attendees already holding a CBA® certification will receive Continuing Education Units. Attendees signing up for the complete 4-½ day training program in Seattle will receive a discount voucher to sit for the Certified Business Architect (CBA)® exam. Register today to take advantage of this special, limited-time offer.
According to BAA Partner Whynde Kuehn, "BAA strives to help businesses build an advantage with business architecture, which bridges the gap between strategy and execution. We are results-focused and ultimately help teams to achieve better business results for their customers, their partners, their employees and the organization overall."
A half-day Practicing Business Architecture session on Day 5 will offer attendees a unique opportunity to exercise what they learned in a live setting. Attendees will bring in business architecture scenarios, mapping requests and solution-oriented challenges, and the instructors will work through the topics, creating a real-time learning experience. Don't miss this unique opportunity to learn the discipline directly from leading experts in business architecture.
For course descriptions and outlines, please view the Curriculum page. All courseware is founded on best practices and punctuated with real life experience across a variety of industries. For more information on this event and to begin registration, please view our website, William Ulrich and Whynde Kuehn, will be instructing the course series.
About Business Architecture Associates
Business Architecture Associates (BAA) is dedicated to training businesses in the practice and use of business architecture, an established practice that aligns business strategies with operational tactics. Founded by industry pioneers Whynde Kuehn and William Ulrich, these in-demand experts work across a wide range of industries to successfully establish and leverage business architecture to deliver lasting business value. BAA is a Guild Accredited Training Partner™ (GATP™) with the Business Architecture Guild, a professional association for business architects that promotes best practices and expands the knowledgebase of the business architecture discipline.