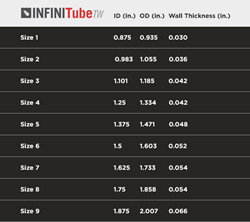 "While INFINITube is the ideal system for creating collapsed and open booms, the options for configurability and application are virtually limitless." Rylan Hayes, Stock Product Manager, Rock West Composites
SALT LAKE CITY, UT (PRWEB) November 23, 2016
Rock West Composites, a composites company with locations in California and Utah, recently rolled out INFINITube™, the first of three branded product platforms. The company released initial information about the INFINITube system in early November, in a move to re-position itself as a more diversified engineering and manufacturing company.
INFINITube is the industry's newest and most innovative family of telescoping tubing products. INFINITube is available in three tubing series: TW, for taper wall, V, for versatile, and UL, for ultralight. INFINITube systems have been used in photographic, engineering, marine, and other applications. According to Rock West Composites Product Manager Rylan Hayes, "While INFINITube is the ideal system for creating collapsed and open booms, the options for configurability and application are virtually limitless."
Details about the three classes of INFINITube products:
INFINITubeTW 9 diameters: 0.875" to 1.875".  Designed for (but not limited to) use with telescoping flip lever clamps.
As each successive INFINITube TW tube decreases in diameter, wall thickness decreases proportionately. This design drives down weight and maximizes stiffness, without limiting the number of tube sections. This relationship is illustrated in the chart.
INFINITubeV 19 diameters: 0.250" to 2.500".
INFINITubeV is a versatile tubing family that offers 19 diameters, all with the same wall thickness. Available in both standard and intermediate modulus, each is identified with a unique aesthetic. Uses button clips, pushbutton ball lock pins, and also accommodates user-designed connectors. New, specially designed clamps are currently planned for early 2017.
INFINITubeUL  6 diameters: 0.709" to 1.290". Designed for (but not limited to) use with Rock West-supplied compression rings.
INFINITubeUL features unidirectional carbon tubing, and is available as a fully assembled product in four size options: 19" (collapsed) to over 300" (extended). It is the lowest weight of all three tubing classes. 
______________________________________________________________
At its inception in 2009, Rock West Composites was established as the manufacturing division of San Diego-based Rock West, LLC. RWC was (and is) one of two strategic business units that operate under the corporate Rock West brand. Over the past seven years, the Rock West Composites facility in Utah has added distribution of stock products to its revenue base, including bought-in products and supplies sold over the Internet.