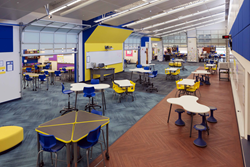 Sunnyvale, Texas (PRWEB) November 17, 2016
Designing for the emerging Next Generation Learning model is at the forefront of WRA's school design effort. We understand that the Next Generation school must respond to the fact that students are individuals, and that they learn in different ways, at different rates. The school environment must enhance the learning experience, not be a hindrance.
Sunnyvale ISD recently opened it's Next Generation Learning addition to their WRA Architects designed middle school, the original school opened in 2006. This new addition was the first step in taking a new and innovative approach toward a next generation learning model. This design will help equip students with the skills & education to tackle a future in the 21st century.
"We felt it was important to change the learning space, because instruction has changed. We moved away from teaching kids in rows more to collaborative spaces" said Doug Williams, Superintendent, Sunnyvale ISD. "We want to make sure that instruction and learning match, that's very important to us at Sunnyvale ISD"
Elements included in the new additions:

STEM Classroom
Large Collaboration area to enhance facilitation instruction
Abundant natural light
Modular furniture to adapt to different learning styles and activities
Glass overhead doors to enable flexible use of space
Mobile technology
Outdoor learning areas
Acoustic treatments designed to facilitate large group interactions
Presentation platform
Lock down feature for enhanced security
The school environment must be an asset to the learning experience. For example studies have demonstrated that children learn better with natural light. However, merely placing a window in an exterior wall does not enhance learning if it washes out the classroom smart board or if its covered with a closed blind all day to eliminate glare and heat.
"As school architects, this was an exciting project to be apart of; Sunnyvale ISD has been moving toward this Next Generation Learning model, and it will be exciting to see where the next projects take us" says Keith Anderson, Partner, WRA Architects
Next Generation Learning supports students, parents, teachers, architects, and administration that are reimagining public education & how we prepare students for a life beyond K-12 education. Sunnyvale ISD & WRA Architects recognizes that in order to make education more about learning and collaboration, we need to support those educators with the vision to transform their schools and the passion and courage to pursue it.