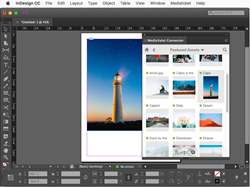 It's wonderful to see the Connector family enhancing DAM usefulness and productivity for the Adobe user community.
Los Angeles, CA (PRWEB) November 17, 2016
Silicon Publishing Inc., well known for its extensions for the Adobe Creative Cloud, today announced the newest version of its Silicon Connector series. Optimized for Adobe CC 2017, this enhanced family of Connectors supports a growing suite of DAMs and Cloud-based asset management solutions.
Meet Connector
Silicon Connector for Adobe CC 2017 is a simple yet powerful extension to the Adobe Creative Cloud. Connector enables direct http URL linking from InDesign, Photoshop, and Illustrator to Cloud-based assets on web servers or in DAMs.
Before Connector, InDesign allowed asset links only to the local file system or shared drives. But with Connector, users simply drag and drop assets into InDesign projects, automatically creating direct http links to those assets in the DAM or web server.
When those linked assets are revised, they're also updated in InDesign, automatically. For Photoshop and Illustrator users, a simpler approach prevails: single assets are selected from the DAM for editing, then checked back in at the end of a session.
Silicon Connector for Box is Available Now
The CC 2017 version of Silicon Connector for Box hits the streets later today. For those already using Box and InDesign (or Photoshop and Illustrator) and considering the upgrade to this new release, ordering is easy with Silicon's new shopping cart: http://siliconpublishing.com/order/
Improved Functionality
Connector enhancements for Adobe CC 2017 available with most forms of Silicon Connector:

Drag and drop asset linking is faster and more intuitive.
Folder re-linking in InDesign allows users to re-link entire folders of local content to the DAM, with a single click.
Enhanced asset searching now uses names, descriptions, text contents and other metadata, without leaving Illustrator, Photoshop or InDesign workflows.
Not only InDesign, but Photoshop and Illustrator users can now navigate the DAM and download assets without leaving their native applications.
More DAMs than Ever
The Silicon Connector family supports 15 world-class DAMs, with more on the way for 2017.
These include industry leaders such as: Adobe Experience Manager (AEM), Alfresco, DALIM, eyebase, MediaValet, NetX, WebDAM and Widen, as well as Box. New Connectors are coming soon for Bynder and PhotoShelter.
"Silicon Connector for CC 2017 is more powerful than ever," said Max Dunn, CEO of Silicon Publishing. "Nothing beats single-source asset management, as many verticals are now learning. It's wonderful to see the Connector family enhancing DAM usefulness and productivity for the Adobe user community through this simple yet effective technology."
See Connector in Person
Silicon Publishing is attending DAM LA 2016 (November 17-18), and will be available to discuss the new Silicon Connector for Adobe CC 2017 with show attendees, vendors and media.
To learn more, visit: siliconpublishing.com/connector