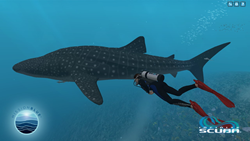 "Fielding feedback and suggestions from people who dive for a living inspires us and helps us keep true to our mission to create authentic diving experiences." Kathie Flood, Managing Director & CEO, Cascade Game Foundry SPC
Las Vegas, Nevada (PRWEB) November 16, 2016
Cascade Game Foundry (CGF™) will exhibit their Infinite Scuba® simulation game and VR experience at DEMA Show 2016 16-19 November 2016 at the Las Vegas Convention Center.
Show attendees can play Infinite Scuba at the #CascadeGameFoundry Booth (#6240), located directly across the aisle from the DEMA Hall of Fame in the DEMA Central area of the Main Exhibit Hall. The beautiful and relaxing game enables players to explore real international dive sites as a real diver would. Attendees can try the exciting new VR version of the game and get a sneak peek of the game's latest dive site.
"We're very excited to show the newest version of our game and VR experience at DEMA Show 2016," says Kathie Flood, Managing Director and CEO of Cascade Game Foundry. "Fielding feedback and suggestions from people who dive for a living inspires us and helps us keep true to our mission to create authentic diving experiences."
The annual DEMA Show is the world's largest trade-only event for companies doing business in the scuba diving, ocean water sports and adventure/dive travel industries. The yearly event attracts hundreds of exhibitors and thousands of dive and travel industry professionals from around the world.
In addition to providing an arena in which to conduct business and network, DEMA Show offers participants the most extensive education curriculum in the industry including DEMA-Sponsored Seminars and Exhibitor-Sponsored Seminars from participating by manufacturers, travel destinations and dive certification organizations.
To ensure that Infinite Scuba provides an authentic and illuminating diving experience, CGF works closely with the legendary Dr. Sylvia Earle, National Geographic Explorer-in-Residence, Time Magazine "Hero for the Planet", and founder of Mission Blue. Mission Blue is a non-profit organization that creates public awareness about critical ocean issues and inspires support for organizations, projects and scientific expeditions that make a positive difference for the ocean. CGF donates $1.00 of every game sold to Mission Blue.
CGF also works with the Diving Equipment and Marketing Association (DEMA) and over 20 dive equipment manufacturers, including SCUBAPRO®, Oceanic, and Body Glove, to ensure the integrity of Infinite Scuba's diving experience while raising awareness of critical ocean and marine life issues.
Infinite Scuba was a runner-up in the Intel Buzz Workshop in June 2016, a finalist in Game Connection America's Selected Projects 2014 competition, a finalist in the 2013 Seattle Independent Game Competition, and the winner of the Best in DEMA Show 2012 award. Cascade Game Foundry is a 2013 Graduate of the Washington Interactive Network's REACTOR Accelerator.
Below are two videos of the game:
https://www.youtube.com/watch?v=R11EPXkMtoQ
https://www.youtube.com/watch?v=vazIGupFf_s
For more information about Infinite Scuba, please visit:
https://www.infinitescuba.com
For more information about Mission Blue, please visit:
https://www.mission-blue.org
About Cascade Game Foundry
Cascade Game Foundry SPC (CGF) is an independent Seattle-based development studio composed of simulation experts with a passion for helping people learn about and explore the world from home. Their first independent release is the award-winning Infinite Scuba. Partners include Dr. Sylvia Earle, Mission Blue, Oceanic Society, DEMA, and over 20 dive equipment manufacturers.
For more information about Cascade Game Foundry SPC, please visit http://www.cascadegamefoundry.com