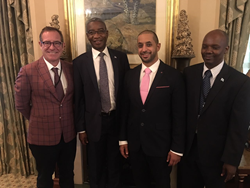 The diamond industry in Botswana is an ideal example of the value that this sector can have in providing important revenue to a country's economy
Dubai, UAE (PRWEB) November 16, 2016
The UAE Kimberley Process Chair (KP Chair), Ahmed Bin Sulayem, has completed his visits to countries in Africa with a trip to Botswana. The series of official stopovers in 14 countries across the continent is part of the Chair's 'Africa Initiative', which is a commitment to keep a hands-on presence in diamond producing nations and to give Africa a voice in the trade.
Botswana has played an active role in the Kimberley Process since it became a member in 2003. In addition to chairing the initiative in 2006, it is currently a member of five working groups involved in upholding and progressing the KP. In lieu of these commitments, Mr. Bin Sulayem met with senior officials in the country including the Minister of Infrastructure and Housing Development, Hon. Nonofo E. Molefhi, in order to discuss how the southern African country can be engaged on the proposal for a UN Permanent Secretariat put forth by the KP Chair, and the rough diamond valuation initiative.
The UAE KP Chair's visit took place last week, before the annual KP Plenary that is being held in Dubai from November 13 – 17. The proposal for the UN Permanent Secretariat will be discussed and deliberated upon by the delegates, as well as the third annual rough diamond valuation workshop. In the latter, participants will aim to reach a consensus on generic criteria for rough diamond valuation that will ensure a greater level of standardization in values across the industry in order to deliver more fair value to everyone in the diamond supply chain.
"Over the years, Botswana has been one of the KP's biggest proponents, and given this heritage, we strongly believe it is vital to engage senior officials here in our endeavor to continue strengthening the initiative's framework," said Mr. Bin Sulayem.
One of the largest producers of rough diamonds globally, Botswana exported 21.2 million carats of diamonds in 2015 worth $4.6 billion. The industry – including mining, cutting and polishing, and sales – accounts for approximately 20% of the country's GDP.
"The diamond industry in Botswana is an ideal example of the value that this sector can have in providing important revenue to a country's economy and it is promising to see the government using this capital for diversification," said Bin Sulayem. "The Africa Initiative was envisioned to engage the continent more effectively in the KP, and also, to drive the long-term sustainable growth of the industry. These visits have provided an invaluable perspective into what is needed to progress the sector and two of the areas that are critical are the Permanent Secretariat and a consensus around rough diamond valuation. Moving ahead, I strongly hope that KP Chairs will continue this legacy of maintaining a hands-on presence in Africa in the years to come."