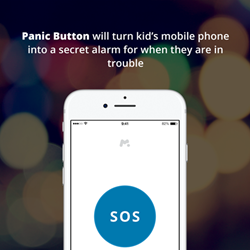 (PRWEB) November 17, 2016
November, 16, 2016 - mLite, the parental control app on Google PlayStore, has added a new feature– Panic Button, which turns your kid's mobile phone into a secret alarm when they are in trouble.
How does it work?
Panic Button is designed to safeguard your child by allowing him/her to send an SOS message whenever your kid is in danger. All your kid needs to do is press a Panic Button icon on his/her phone, once the mLite is installed on their phone, and you will be alerted with a message with the precise location of your child. It can only be deactivated by you the parent.
mLite provides all necessary features that safeguard modern children in most situations. The GPS tracking, together with Geo-Fencing, helps parents know if their children are in a dangerous neighborhood. Real-time SMS logs tracking and call logs monitoring help to prevent cyberbullying. Monitoring of the contact list will help to find out who children communicate with.
Active mLite users will receive a new feature with an OTA update. Starting from November 2016 Panic Button is will be available for all the new users.
mLite Panic Button – a one-touch connection in case of emergency.
About mSpy
mSpy specializes in customized and user-friendly mobile & computer monitoring solutions, by utilizing the latest innovations in monitoring technologies. mSpy's goal is to deliver the fastest and most secure solutions that suit most demanding parental needs and bring guaranteed results at an affordable price.