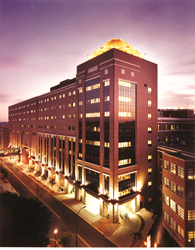 There is nothing more devastating than the loss of life at a very early age from something that may be preventable with early detection.
Pittsburgh, PA (PRWEB) November 16, 2016
Physicians at West Penn Hospital, part of Allegheny Health Network (AHN), are conducting heart screenings for dozens of local middle and high school student-athletes today in an effort to detect potential cardiac abnormalities, including enlarged hearts, that are often the reason an athlete unexpectedly collapses on the court or field.
During today's screenings at West Penn, 46 basketball players, ages 12 to 18, who participate in the Ozanam after-school program in Pittsburgh's Hill District will undergo physical exams, including electrocardiograms (EKGs), which check the electrical activity of the heart. If cardiologists feel further information is necessary, they may also perform an echocardiogram, a non-invasive ultrasound test that can detect an enlarged heart.
William Johnjulio, MD, Chair of the Department of Family Medicine at AHN, and Venkatraman Srinivasan, MD, Medical Director of West Penn's Cardiovascular Institute, will oversee the screenings. AHN and West Penn Hospital are covering the cost of the exams. As the student-athletes wait to be screened, representatives from the American Heart Association will be present to provide hands-only CPR training.
"There is nothing more devastating than the loss of life at a very early age from something that may be preventable with early detection," said Ron Andro, President and CEO of West Penn. "So when the idea for this screening event was presented to us, we knew right away it was something we wanted to do. We are grateful to Dr. Johnjulio and Dr. Srinivasan and their staffs for leading this effort, and we applaud both the Ozanam organization and Georgia Sauer for their commitment to the health of student-athletes in our community."
A former Pittsburgh resident, Sauer saw a need to get the word out about the importance of heart screenings and laid the foundation for the West Penn heart screenings. Sauer lost her son, Peter, in 2012 when the former Stanford University basketball player collapsed and died from cardiac issues while playing pickup basketball. She had volunteered at Ozanam in the 1990s and has developed a close friendship with Darelle Porter, the former University of Pittsburgh basketball standout who was an Ozanam participant as a youth and now serves as the program's director.
"Since my two athletic sons were 4 and 6 years old, I was the team mother for their basketball, baseball, swimming, and soccer teams, including trips all over the country for tournaments," Sauer said. "Yet as enmeshed as I was in youth sports, I knew nothing about echocardiograms detecting enlarged hearts until after we lost Peter. That's why it has become my mission to get the word out to screen athletes."
Sauer and Porter took the idea of doing a heart screening to Dr. Martin Gregorio, Health Services Physician for the Pittsburgh Board of Education, and Rae-Ann Green, Director of Health Services for Pittsburgh Public Schools.
"Too often, we hear about young athletes – particularly basketball players – dying from sudden cardiac arrest," Dr. Gregorio said. "But with proper screenings, like those at West Penn Hospital, we hope we can identify potential risks and keep our student-athletes as safe as possible."
After Sauer and Porter shared the idea of the screening with Pittsburgh Public Schools, Dr. Gregorio presented the concept to West Penn, which quickly blessed it.
"The screening results will be shared with the students' families and sent to their pediatricians," Dr. Srinivasan noted. "We also can assist with further follow-up as needed."
For more information about the Ozanam program, visit Ozanamprogram.org.
About Allegheny Health Network
Allegheny Health Network, part of Highmark Health, is an integrated healthcare delivery system serving the Western Pennsylvania region. The Network is comprised of eight hospitals, including its flagship academic medical center Allegheny General Hospital, Allegheny Valley Hospital, Canonsburg Hospital, Forbes Hospital, Jefferson Hospital, Saint Vincent Hospital, Westfield Memorial Hospital and West Penn Hospital; a research institute; Health + Wellness Pavilions; an employed physician organization, home and community based health services and a group purchasing organization. The Network employs approximately 17,000 people and has more than 2,400 physicians on its medical staff. The Network also serves as a clinical campus for Temple University School of Medicine, Drexel University College of Medicine and the Lake Erie College of Osteopathic Medicine.
###