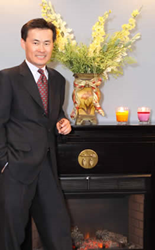 Garden Grove, CA (PRWEB) November 16, 2016
Dr. Jin Kim proudly announces that the FDA has provided clearance for True Regeneration™ utilizing the LANAP® protocol, and he now invites new patients who have gum disease to receive this treatment at his two convenient practice locations in Garden Grove and Diamond Bar, CA, even if they do not have a referral. FDA clearance for True Regeneration™ with the LANAP® procedure is a significant achievement in the periodontal field and emphasizes the benefits of the procedure.
Dr. Kim is a world-renowned periodontist who lectures internationally on leading dentistry techniques. He is proud to provide gum disease patients with the option of receiving laser dentistry in Garden Grove, CA, and Diamond Bar, CA. He utilizes the revolutionary LANAP® protocol as a gentle alternative to other periodontal disease treatments that require diseased tissue to be cut out of the mouth with the use of scalpels and other periodontal tools. While the many benefits of laser treatments have long been known and explored, the LANAP® protocol has recently been shown to regenerate tissue. This revolutionary new FDA clearance for True Regeneration™ with the LANAP® technique illustrates the procedure's ability to regenerate tissue that has been lost due to inflammatory periodontal disease.
Although there is still much research left to be done before the exact mechanism behind the LANAP® protocol's ability to regenerate tissue is fully understood, preliminary findings reveal that the protocol is able to activate stem cells. Once activated, the stem cells play an important role in regenerating tissue. Patients who have lost gum tissue due to periodontal disease are encouraged to learn more about how treatments with the LANAP® protocol may benefit them.
Dr. Kim invites new patients with or without a referral to visit his practice for laser dentistry in Garden Grove, CA or Diamond Bar, CA. Those with gum disease who wish to receive a consultation are invited to schedule an appointment with Dr. Kim by calling 714-898-8757 for the state-of-the-art Garden Grove location.
About the Doctor
Dr. Jin Y. Kim is a periodontist dedicated to providing personalized dental care in Diamond Bar and Garden Grove, CA. Dr. Kim attended the University of Sydney Faculty of Dentistry before furthering his education with an advanced degree in pathology from the Medical School of the same University. Dr. Kim completed a periodontics and implant surgery residency at UCLA School of Dentistry. A uniquely dual board-certified specialist, Dr. Kim was board-certified by the American Board of Periodontology and the American Board of Oral Implantology/Implant Dentistry. The International Congress of Oral Implantologists and the American Academy of Implant Dentistry both gave him the title of Fellow. He was also inducted to be a Fellow of the prestigious American College of Dentists. Dr. Kim enjoys lecturing at UCLA School of Dentistry as well as national and international academic and clinical associations and universities including the International Association of Dental Research, American Academy of Periodontology and Academy of Osseointegration. To learn more about Dr. Jin Kim and the services he offers, visit his website at http://www.drjinkim.com or call (909) 860-9222 for the Diamond Bar location or (714) 898-8757 for the West Garden Grove location to schedule an appointment.