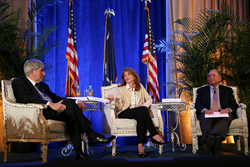 "We want to be close to our grantees, we want to be involved, otherwise how do you know? How do you keep up with what's happening?"
Charleston, S.C. (PRWEB) November 16, 2016
Bruce and Suzie Kovner were honored as the recipients of the 2016 William E. Simon Prize for Philanthropic Leadership during a special luncheon at the 2016 Annual Meeting of The Philanthropy Roundtable Wednesday. The luncheon featured a special performance by violinist Randall Mitsuo Goosby, a Kovner Fellow at The Juilliard School.
Since 2001, Mr. Kovner has served as the chairman of the board of The Juilliard School and also serves as vice chairman of the Lincoln Center for the Performing Arts. He serves on the boards of the Metropolitan Opera and American Enterprise Institute, and was formerly on the board of the New York Philharmonic.
"I think a key part of accomplishing things through organizations is identifying great leaders and then giving them the scope to lead. That's part of what we try to do. I don't want to second-guess a great leader," Mr. Kovner said at the luncheon.
Mrs. Kovner is a director of Success Academy charter schools and Thanks USA, a trustee of Carnegie Hall, and leader of the advocacy group for Ensemble ACJW, a Carnegie Hall and Juilliard School effort that supports young professional musicians as they build their careers. In 2002 she established the first U.S. office of the National Theatre of Great Britain and is currently a member of the Board of the American Associates. She is also a sustaining member of Memorial Sloan-Kettering Cancer Center's administrative board.
"Our philanthropy is actually very personal, as most is," said Mrs. Kovner. "We want to be close to our grantees, we want to be involved, otherwise how do you know? How do you keep up with what's happening?"
To learn more about the Kovners' background and philanthropic efforts, click here.
The William E. Simon Prize for Philanthropic Leadership was created by the William E. Simon Foundation to further Bill Simon Sr.'s ideals and principles of personal responsibility, resourcefulness, volunteerism, scholarship, individual freedom, faith in God, and helping people to help themselves. It is intended to honor living philanthropists who have shown exemplary leadership through their own charitable giving. Previous winners of the William E. Simon Prize for Philanthropic Leadership include David Weekley, Jon Huntsman Sr., Eli and Edythe Broad, Bernie Marcus, Charles Koch, Roger Hertog, Phil and Nancy Anschutz, Dr. Ben Carson, David Robinson, the late Sir John Templeton, and the late John Walton.