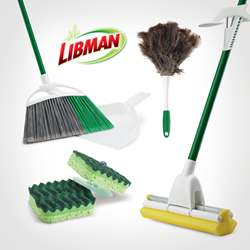 Arcola, Ill. (PRWEB) November 16, 2016
The Libman Company wants consumers to successfully welcome guests and host parties with flair and ease by keeping their homes in tip-top shape throughout the holiday season. Per its slogan to "Embrace Life's Messes," Libman, a 120 year-old American manufacturer of cleaning products, provides some cleaning hacks that'll save homeowners cleaning time and hassles, and will have them enjoying family time that much sooner:
1. Chances are family and guests will be coming and going this holiday season. Make cleaning up after house visitors easier by waiting until the muddy footprints dry. Sweep up the clumps and easily mop the rest. For melted snow messes, keep a Libman Wonder® Mop on hand by the door to soak up the water.
2. No one wants to be embarrassed by having a cobweb pointed out to them by that one clean obsessed relative. Check room corners and put an old sock over the handle of a broom to clean up spider webs. Once the spider webs are on the sock instead of the walls, put the sock in the next load of laundry.
3. Make cleaning up holiday projects and crafts a breeze. Use a Libman Lint Roller to quickly clean up glitter, tiny paper pieces, and any other of those little craft supplies that seem to get stuck everywhere.
4. Let in that seasonal sunshine by using a sponge mop (the Libman Gator Mop is recommended) with one's favorite cleaning solution to wash windows outside so that Santa can easily see whether the kids are naughty or nice before he pops down the chimney.
5. Overnight guests? No problem. Easily keep the shower sparkling clean by using a Libman Dish Wand in the shower to give the walls and door a quick wipe down each morning.
6. Since most folks are serving food and cleaning up more often than usual during the holiday season, don't forget that sponges need to be cleaned regularly. Once a week, pop them in the microwave for 30 seconds to zap bacteria.
7. Pets typically develop a heavier winter coat during the colder months. If pet hair seems to be everywhere, use a Libman Window Squeegee to quickly pull up pet fur from carpet, rugs, and upholstered furniture so that guests aren't covered in fur when they leave.
Find more tips online at http://www.libman.com.