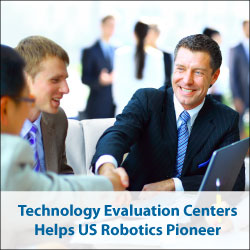 "The TEC process helped us come up with ERP vendors that were strong enough to blow our initial choice out of the water." —Jerome Wong, Ekso consultant
Montreal, Canada (PRWEB) November 18, 2016
After recent advancements in product development and financing, California-based Ekso Bionics, designer and manufacturer of robotic exoskeletons, was poised for further growth. But the company's existing systems couldn't continue to support its needs during the busier days ahead, and Ekso management decided that an integrated and scalable ERP system was the only path forward.
An online search for a comprehensive ERP requirements list led the company to Technology Evaluation Centers (TEC), an impartial enterprise software advisory firm. With TEC's expert guidance and advanced evaluation and comparison resources, Ekso was able to find its best-fit ERP system, even with the challenges of a short timeframe and management's initial bias towards a specific solution.
TEC provided a dedicated project manager to oversee the evaluation and selection process. TEC created a scope-reflective decision model including a comprehensive requirement set and then provided Ekso with guided access to TEC Advisor, TEC's online enterprise software decision-making platform. Ekso was trained, coached, and supported to accurately determine the company's requirements and narrow down the list of potential solutions. The TEC project manager worked hands-on throughout the evaluation and selection process, which also included managing requests for information (RFIs) and requests for market data from several vendors, overseeing vendor demonstration sessions, and managing price requests once the potential solutions were narrowed down to a final shortlist.
The entire process was completed over a six-week time period, about half the time of a normal TEC selection project. With the compressed time frame, each stage of the process had to be well-planned and efficient. Says Ekso consultant Jerome Wong, "The TEC project manager's guidance and feedback were key to the successful outcome of the project, and he kept the ball rolling."
At the beginning of the selection process, management was leaning towards a tier three ERP solution that an Ekso vice president's former company had implemented and was having success with. However, after having gone through the due diligence software evaluation process with TEC, Ekso discovered that the solution originally supported by management was not a good fit, and made its decision between two much more suitable solutions.
Says Wong, "We never would have gotten to this point if we hadn't found strong ERP systems to compete with our favored solution. The TEC process helped us come up with ERP vendors that were strong enough to blow our initial choice out of the water."
Moreover, Wong appreciates the fact that the final software choice is backed up with unbiased data. "I like the fact that if people ask us, 'Why did you decide to go with the vendor you did?' everything is validated, because our decision was made using objective information."
Read the full case study for an in-depth look at Ekso Bionics' ERP selection project with TEC.
For more information on TEC's software evaluation and selection services, contact +1 514-954-3665, ext. 404, or email Selection Services.
About Technology Evaluation Centers (TEC)
Technology Evaluation Centers (TEC) is the world's leading provider of software selection resources, services, and research materials, helping organizations evaluate and select the best enterprise software for their needs. With its advanced decision-making process and software selection experts, TEC reduces the time, cost, and risk associated with enterprise software selection.
Over 3.5 million subscribers leverage TEC's extensive research and detailed information on more than 1,000 leading software solutions across all major application areas. TEC is recognized as an industry-leading software selection advisory firm offering resources and services both online and onsite. For more information, please visit http://www.technologyevaluation.com.