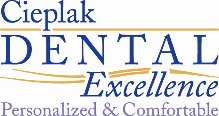 La Plata, MD (PRWEB) November 16, 2016
Dr. Patrick Cieplak recently attended a continuing education course by the American Institute of Implant Dentistry with his team. During the course, Dr. Cieplak learned advanced procedures to effectively place TeethXpress™ immediate load implants and how they can benefit individuals with missing teeth in La Plata, MD. Unlike some traditional dental implants, TeethXpress implants are designed for immediate load and are fully functional when placed.
Dr. Cieplak is committed to utilizing the innovative technology and procedural advancements in his practice. He and his team now utilize the information and techniques acquired during the TeethXpress course to provide patients with missing teeth in La Plata, MD with an alternative to traditional dental implants and dentures that can be immediately functional. TeethXpress implants are ideal for patients with single or multiple missing teeth who would like to avoid traditionally long tooth replacement procedures.
Dr. Cieplak carefully examines each patient to determine candidacy for the TeethXpress procedure. Advanced imaging technology, extensive treatment planning and calming sedation dentistry is used to place the implants, and the entire procedure can be completed in one office visit. Once placed, patients have immediate use of their new teeth and experience a relatively mild recovery time when compared to more invasive procedures that usually require at least three months of healing before crowns are placed. With proper care, implants can last a lifetime and frequently do not need to be replaced.
TeethXpress dental implants are now a preferred durable and attractive alternative to traditional dentures. Dr. Cieplak extends an invitation to all patients with missing teeth in La Plata, MD, to call his practice at 301-609-9999 and schedule a customized consultation.
About the Doctor
Dr. Patrick Cieplak is a general dentist offering personalized dental care to patients in La Plata, MD. Dr. Cieplak is dedicated to learning the latest dental techniques and has completed hundreds of hours of continuing education courses. Dr. Cieplak is one of only 3,000 dentists to receive the Academy of General Dentistry's Master's Degree and he is a Fellow in the International Congress of Oral Implantlogy as well as Associate Fellow in the American Academy of Implant Dentistry. Cieplak Dental Excellence strives to offer each patient customized treatment to help them achieve proper oral health. To learn more about Dr. Cieplak, his team or the services they offer, please visit http://www.patcieplakdds.com or call (301) 609-9999 to schedule an appointment.