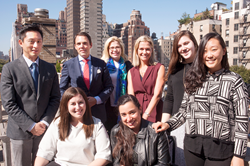 After getting to know the NYSID students and faculty, we knew we wanted to forge a partnership that would take us beyond the Green Roof Initiative.
Kirkland, WA, (PRWEB) November 17, 2016
Online luxury furnishings retailer ATGStores.com is partnering with the New York School of Interior Design in Manhattan for its Green Roof Initiative, a project now underway that aims to redesign an NYSID building rooftop as a sustainable garden for student use.
The partnership began in September when ATGStores.com creative director and designer Alexa Hampton, who is also an NYSID trustee, invited the company's president, Michelle Newbery, to join her on a consulting panel for the project.
"When I heard about the NYSID project I knew ATGStores.com would want to get involved," Hampton said. "As a home furnishings retailer with a wide selection of eco-friendly outdoor designs, it seemed like a perfect fit."
The project was created by the NYSID U.S. Green Building Council (USGBC) student group as a way to educate the community on green design and sustainability through the gift of a rooftop garden. A three-person team crafted the proposal, which was then reviewed by the panel.
The college is now raising funds for design implementation, and that spurred an idea for further support from ATGStores.com.
"After getting to know the NYSID students and faculty, we knew we wanted to forge a partnership that would take us beyond the Green Roof Initiative," Newbery said.
ATGStores.com plans to furnish the rooftop garden space once complete, and is also now offering NYSID faculty, alumni and students an exclusive discount on all future purchases to help with design costs on projects of any kind.
"It was thrilling when NYSID students first proposed transforming our 70th Street roof into a garden for our community. It's a great demonstration of the power of design to transform lives," said NYSID president David Sprouls. "I am delighted to welcome ATGStores.com as a sponsor of this important project and our partner in preparing our students to be leaders in interior design."
The new green space is slated for completion in spring 2017 and will be a welcome addition to the college and its community.
ATGStores.com, a Lowe's company since 2011, takes projects from concept to completion by offering every customer high-touch customer care, a curated selection of high-quality home furnishings, interior design services and professional installation for a seamless shopping experience. The company features more than one million products in a host of different categories, from lighting and furniture to hardware and decor. To learn more, visit ATGStores.com or email questions to press(at)atgstores(dot)com.
Ranked the #1 interior design school in the United States by DesignInteligence, the New York School of Interior Design is a private, nonprofit college focused exclusively on interior design. The college offers certificate, undergraduate, and graduate programs for students at all stages of their careers – whether they're just becoming familiar with the discipline, considering a career change, or looking to deepen knowledge in a particular area. Founded in 1016, NYSID has been leading the study of interior design for a century and has trained many of the designers whose work defines interior design today. For more information visit nysid.edu.