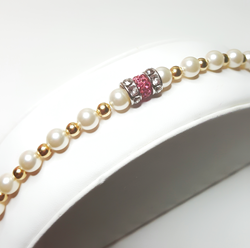 We are excited that we will be able to gift one of designs to the press and celebrities-we see this as a great chance to showcase our brand to a larger audience
BOSTON, MA (PRWEB) November 17, 2016
In association with The Artisan Group®, Sweet Charm Elegance will be one of the many local artisans participating in GBK's 2017 Celebrity Gift Lounge, honoring The Golden Globe Award® nominees and presenters. Sweet Charm Elegance will be gifting a piece from The Simply Pink signature couture jewelry line-all pieces featuring the ultra-feminine color pink.
SCE's designer inspired pink and white fashion bracelet (retail $65) showcases a gorgeous blend of pearls and crystals from world renowned Swarovski©. A single Pave crystal is the main focal in this design, with the option of rose pink or white, available now through SCE's online boutique, featuring affordable sparkle.
Sweet Charm Elegance recently became a member of The Artisan Group®, a premier entertainment marketing organization that provides owners of artisan businesses the chance to introduce their products to celebrities, industry leaders, VIPs, and members of the press through participation in celebrity gift lounges, and our exclusive TV show stylist gifting initiative
The sparkle of the world-famous Swarovski© crystals brilliantly shines in SCE's new collection. The finest quality stones in each Sweet Charm Elegance piece are the real deal — all stones are bought from certified and reputable Swarovski© dealers. Each piece in all collections are exclusively designed with Swarovski© crystal beads and antique luminous pearls.
Sweet Charm Elegance is a small company based out of Boston, MA. Currently, Sweet Charm Elegance will be gifting multiple pieces to TV shows and upcoming award shows. Most recently, Sweet Charm Elegance has been featured in the 2016 Billboard Music Awards, fashion bloggers Blondie in the City and The Boston Fashionista, March 2016 issue of Woman's World, The National Examiner, Girls World, news outlets, such as Univision D.C., and other online blogs. Sweet Charm Elegance continues to design eye-catching, gorgeous jewelry. Every woman deserves to sparkle.