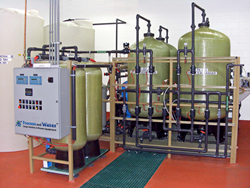 their expertise in delivering innovative, sustainable water systems that safeguard our critical water resources
E. Bridgewater, MA (PRWEB) November 17, 2016
Process and Water, a leading manufacturer and designer of advanced water purification, filtration and chemical treatment systems, today announced that it has been selected by Tech Etch to provide an advanced wastewater recycling system. Tech-Etch is a growing, Massachusetts-based manufacturer of specialty precision products, including photo etched flat and formed parts, thin and flexible printed circuits, and electromagnetic interference (EMI) shielding products. Customers include leading companies in the aerospace, automotive, electronics, instrumentation, manufacturing, medical, and telecommunications industries, and the military/government sector. The new wastewater recycling system being provided by Process and Water will enable Tech Etch to virtually eliminate all environmental impacts on water resources from the company's manufacturing and production processes.
Custom-designed for Tech Etch specific requirements, the new system is among the most advanced developed by Process and Water to date. It will enable the Tech Etch team to effectively handle the challenges of dealing with its process rinse streams in efficient and environmentally friendly ways. The 'closed-loop' system will utilize several proprietary Process and Water components and subsystems including a unique high capacity ion exchange treatment (Deionized Water), chemical regeneration and pH neutralization process. Once installed, the system will enable Tech Etch to meet its goal of reducing its sewer discharge of process rinse into municipal water systems by over 95%.
"After an extensive evaluation process, we selected Process and Water as our industrial wastewater recycling system provider for three reasons. First is their expertise in delivering innovative, sustainable water systems that safeguard our critical water resources, which is a priority for us," The Facilities Management Team Stated. "Second is their value-based approach and the resulting cost-effectiveness of their products. The third important consideration was that like us, Process and Water is New England based firm with a strong regional commitment. These factors made it an easy decision for our team."
"Tech Etch sets a high bar for quality and innovation in everything they do, so we're pleased that they saw the value in working with our firm," said Process and Water CEO Thomas Belmont. "We're confident that our distinctive manufacturing and service capabilities will align with the Tech Etch team's approach and meet their expectations."
About Process and Water
Process and Water is a different kind of water purification and fluid-handling system company. It offers the high-end and custom systems customers expect from large companies, but with the personalized support and services that only smaller companies can deliver. Providing innovative system design, development and manufacturing, Process and Water specializes in creating deionized water and Water Recycle systems that not only meet customers' specific operational needs, but also their budget requirements. The company's expert staff partners closely with customers in all phases of their projects, and offers preventative maintenance and technical support services that ensure uninterrupted operations. Big company capacities delivered with small company care – that's the Process and Water difference. Founded in 2010, and headquartered in East Bridgewater, Mass., Process and Water is a subsidiary of Elevate Experts Corp.