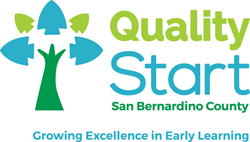 Children learn so much in their first five years, high-quality child care and preschool helps them grow. It sets the foundation for success in school, work, and life.
San Bernardino, CA (PRWEB) November 23, 2016
In California, each county has been given the opportunity to develop its own QRIS with funding being provided by the California State Preschool Program (CSPP) QRIS Block Grant, Infant Toddler QRIS Grant, and First 5 IMPACT grants. This comprehensive, countywide initiative is designed to help local early care and education professionals provide the highest quality early learning experiences possible.
Research shows that the care and education children receive from ages 0-5 plays a significant role in early brain development with those who attend high quality early learning programs being more likely to graduate from high school and have successful careers. QRIS is specifically designed to support children, families, early learning professionals and the community as a whole to help children achieve those goals. And, while participating in this quality rating program, early educators receive resources and professional development opportunities to continuously improve and elevate the quality of the care they provide.
San Bernardino County Superintendent of Schools (SBCSS) and Child Care Resource Center (CCRC) are currently hosting information sessions for licensed child care centers and family child care programs serving children 0-5. During these sessions, early educators will learn about the benefits of enrolling which include:

Development of a quality improvement plan with a coach and up to six hours of coaching per month
Recognition of commitment to quality and peer support
Some programs receive tiered financial incentives based on quality ratings
Resource grants for classroom materials, equipment and facility improvements
Over the next two years, First 5 San Bernardino County, SBCSS, CCRC, and California State University, San Bernardino will enroll 181 early learning programs into the Quality Start program. Ninety-two of those will be rated and all of them will be provided with quality improvement support.
"We are excited to help the San Bernardino community with QRIS. Children learn so much in their first five years, high-quality child care and preschool helps them grow. It sets the foundation for success in school, work, and life. Over six million children under the age of three spend some or all of their day being cared for by someone other than their parents. We are a part of teaching what a quality program should look like," said Michael Olenick, President and CEO of The Child Care Resource Center. "The informational sessions have been successful. It is encouraging to see the number of child care providers that want to participate not only for the success of the business but also for the benefits to children and families."
For more information on Quality Start, the importance of quality early learning, and our effort to educate parents and the community, contact 866-67-4KIDS or visit http://www.qualitystartsbc.org.
About CCRC:
CCRC manages programs to assist with issues such as finding and selecting child care and child care financial assistance to families. Children and families benefit from these programs, allowing parents to go to work and attend school, contribute to the economy and strengthen their families and the community.
About First 5 San Bernardino:
First 5 San Bernardino offers programs that promote, support, and improve the early development of children from the prenatal stage to five years of age, under the guidance of the Children and Families Commission for San Bernardino, and in collaboration with the community and agencies providing services to children.
About SBCSS:
The San Bernardino County Superintendent of Schools mission is to transform lives through education. County Schools delivers innovative and inspiring educational practices and direct instruction to alternative, juvenile court, special education and state preschool students. The office of the superintendent is committed to working in collaboration with school districts, other agencies, families and the community at-large, providing leadership, advocacy and services — always with the focus on students.
About The Institute for Child Development and Family Relations (ICDFR) at Cal State San Bernardino:
The ICDFR at CSUSB promotes the well-being of children and families in the inland region through our research, education and training, and direct services. We draw on the expertise of faculty who have dedicated their careers to the needs of children and the development of healthy families. For over 15 years, the ICDFR has trained hundreds of early childcare educators, offered science-based parenting training for parents throughout the community, and provided high quality childcare at the Infant Toddler Lab School. ICDFR faculty and students also conduct cutting edge research around children, families, and relationships. We do all of this in partnership with numerous child and family agencies throughout the community.