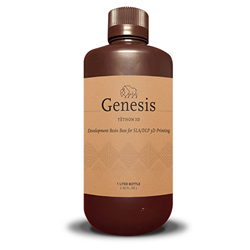 Genesis jump starts the research and development process of new resin materials for 3D printing.
Omaha, Nebraska (PRWEB) November 17, 2016
Tethon Corporation Inc. ("Tethon 3D") announces the release of a new 3D printing product. Genesis™ is a photo-curing polymer resin for use as a developmental base formulation for SLA and DLP 3D printing materials research.
"We are happy to now make Genesis available to anyone who wants to experiment with materials development for 3D printing," says Karen Linder, President and CEO of Tethon 3D. "The process of developing resins for SLA and DLP 3D printing begins with a base formula that can accept solid powdered materials. The raw materials to do this are fairly numerous and costly. By commercializing a base resin formulation, we can give researchers a good starting point in their materials development process with the goal of achieving initial test results much quicker."
Genesis is not suitable for 3D printing on its own without adding a solid powdered material. In particular, research with alumina, zirconia, silica, graphene and hydroxyapatite materials are desirable for metal casting, jewelry, dental, electronics and biomedical industries.
Tethon 3D manufactures Genesis at their facility in Omaha, Nebraska and offers it in liter, gallon and barrel sizes.
About Tethon 3D
Tethon 3D also manufactures Porcelite® ceramic resin for SLA/DLP 3D printing and Tethonite® ceramic powders and an aqueous binder for ceramic powder/jet binder 3D printing. Additionally, the company provides service in 3D modeling, scanning and ceramic 3D printing, as well as 3D printing educational workshops and a residency program.
Tethon 3D holds several patents related to ceramic 3D printing materials, 3D printing processes and 3D printer hardware. For more information on Tethon 3D, visit http://www.tethon3d.com.
Except for statements of historical fact, all statements in this press release, including, but not limited to, statements regarding future plans, objectives and payments are forward-looking statements that involve various risks and uncertainties.