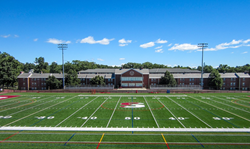 The new Shaw Sport's Turf field will allow us to continue to provide a first-class experience to our student-athletes.
Springfield, MA (PRWEB) November 17, 2016
Springfield College's Amos Alonzo Stagg Field is a proud centerpiece of school pride, but the old and trodden synthetic turf that had been on the field for nine years needed renovating. Decidedly unfit for play in regards to the welfare of the student athletes and other users of the field, Springfield decided to install Shaw Sports Turf.
Four intercollegiate sports are played on Stagg Field, which include field hockey, football, and men's and women's lacrosse. Physical Education classes, rugby, and intramural sports also depend on the field.
Stagg, the namesake of the field, is considered one of the greatest football coaches of all time. He is responsible for over 30 innovations which are key to the game, some of which include, the forward pass, the center snap, the linebacker position, and the onside kick. Stagg also played in the very first public game of basketball in 1891.
"The new Shaw Sport's Turf field will allow us to continue to provide a first-class experience to our student-athletes," said Dr. Craig Poisson, Athletic Director at Springfield College. "The multi-use surface allows our student-athletes to play on the surface for extended time periods, regardless of the weather. It is a terrific recruiting tool for our coaches to say that our student-athletes compete on a state-of-the art safe surface."
Because of the multi-sport needs of the school, Springfield College chose to install Shaw's Legion Pro system. Legion is a combination of high-performance monofilament fibers and a durable slit film fiber. The slit film fiber is a workhorse which will handle the workload, while the monofilament provides a more resilient surface that enhances performance characteristics.
The Legion Pro system also features Shaw's revolutionary Bolt fiber. Bolt is a stronger, more resilient monofilament fiber, featuring a lightning bolt shape which creates a stronger vertical axis that causes fibers to stand upright for less breakdown and increased durability. Bolt is specifically built for performance and to reflect light for a lower luster and more natural looking field.
Springfield College went with Shaw over all other options because of Shaw's competitive bid. "Shaw's team was very professional to work with and communicated with us throughout the process," said Poisson.
R.A.D. Sports of Rockland served as the general contractor on the project.
The installation of the new synthetic turf field began in early July and was completed by mid- August. The school now boasts a state-of-the-art synthetic turf field that will provide the school the best overall performance to meet the needs of the many sports and activities played on Stagg Field.
Already, student athletes who play on the field are reporting favorable feedback. The first activity held on the field was a football game where the college hosted Western New England on September 2nd.
Stagg Field was rededicated with its new surface during halftime at their homecoming football game on October 15th in a matchup against Rochester. Springfield won the game 70-47, in what was the highest scoring football game in school history.
"Present were the College President, myself, our Facilities and Campus Services Director, the women's lacrosse coach and several men and women lacrosse student athletes (football and field hockey coaches and student athletes were competing)," explained Poisson.
Shaw Sports Turf Territory Manager, Joe Kacevich, a former football player, captain of the 1973 team, and graduate of Springfield, says that the college is thrilled with the new turf field.
"It's been a pleasure working with Springfield, and we expect to see an improvement in student athlete performance with a strong, resilient surface specifically designed for the multi-sport needs of the college," said Kacevich.
About Shaw Sports Turf
A wholly-owned subsidiary of Berkshire Hathaway Inc., Shaw Industries is a full flooring provider to the residential and commercial markets. Shaw supplies carpet, hardwood, laminate, resilient, and tile/ stone flooring products, as well as synthetic turf. Shaw Sports Turf is one of the leading synthetic turf companies in North America and has represented quality and innovation for more than two decades with over 1,500 successful installations, including an impressive list of high-profile field installations. For more information please visit http://www.shawsportsturf.com, call 866-703-4004 or find us on Facebook.