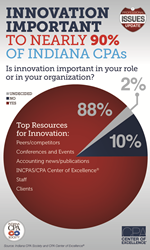 Indianapolis, IN (PRWEB) November 16, 2016
The concept of innovation in the CPA profession and in business has received much attention lately, so to gauge where Indiana CPAs stood on the topic of innovation, more than 1,300 were surveyed. Results found that almost 90 percent of Indiana CPAs say innovation is important both in their role and to their organization, but only 24 percent say they are "future-ready" of which innovation likely plays a big part. Download survey results infographic.
Data collected on the importance of and sources for innovation, as well as future-readiness, were among the findings of live polling conducted this past summer and fall during the Indiana CPA Society's 17th annual Professional Issues Update. More than 2,100 Indiana CPAs attended 15 programs held in 13 cities.
"Because so much of this year's program dealt with the future and the expanded role of the CPA within business, that we felt it was necessary to gather data on future-focused topics," said INCPAS President & CEO Gary Bolinger, CAE, who served as the presenter for the program. "Clearly, innovation was viewed as a key piece of that future role, but we also found that CPAs agree they need help in getting to where they need to be to serve this evolving role."
Participants were asked, "Is innovation important in your role or in your organization?" Eighty-eight percent of Indiana CPAs said yes while only 10 percent said no and 2 percent said they did not know. The survey went on to ask what their top resources for innovation are, and the top five responses came back as 1) peers/competitors; 2) conferences and events; 3) accounting news/publications; 4) the Society; and 5) their own staff. Additional sources mentioned included firm networks, clients, non-CPA businesses and external third parties.
Specifically, participants were asked how INCPAS could help them or their firm or company become more innovative. The top vote getter was providing research and education on trending topics. Second was advocacy to shape the future of the profession, while third was developing solutions they can implement with clients or in their firm or company. Two other write-in choices were telling stories about innovative people, and use of the CPA Center of Excellence® Online Community to share ideas and ask questions. The Center, which was established in 2014, is powered by INCPAS.
But when asked if they believed the CPA profession was "future-ready" (which presumably would include being innovative), only 24 percent said it is. Conversely, 52 percent said it is not and 24 percent that they didn't know.
Some comments giving explanations for this low ranking were as follows: "The profession is not embracing change and innovation; we're doing the same as we have always done." "I believe the future focused, being ready is a daily challenge of evolution." "Regarding 'future-ready,' many CPAs and firms are indeed thinking ahead, but many remain in denial." And, "Pace of change in the CPA profession is slower than the pace of change in technology."
Two other future-oriented questions dealt with integrated reporting and competency-based education. Regarding integrated reporting, which is an enhanced form of business reporting that captures not only financial information but other value such as sustainability, nearly 80 percent said that it would add additional value to employers, clients, bankers and investors. Integrated reporting is gaining traction internationally, but has been slow to catch on among U.S.-based companies and organizations.
Competency-based education was also strongly supported. Ninety percent said the Society should continue to advocate for competency-based education as an option for CPAs in fulfilling their CPA license renewal requirements. Competency-based education has gained momentum recently through the efforts of INCPAS with the enactment in October of a new rule that allows for competency-based education to count toward the ethics education requirement for Indiana CPAs. The CPA Center of Excellence® recently released a competency-based ethics course.
While survey results clearly prove that innovation and other future concepts are on the minds of Indiana CPAs, they also found there is a need for Indiana CPAs to improve their future readiness. The survey demonstrates a gap between where many CPAs are today and their understanding of where they need to be in the future.
###
About the Indiana CPA Society
Nearly 8,100 CPAs in public practice, business and industry, government and education are members of the Indiana CPA Society. INCPAS is the most trusted business resource and advocate in Indiana. Its members are required to abide by the CPA profession's code of conduct. INCPAS members also receive access to quality educational programs and peer networking for knowledge sharing. Society members are trusted advisors to Indiana's business community. INCPAS celebrated its 100th anniversary in 2015. For more information, visit incpas.org.