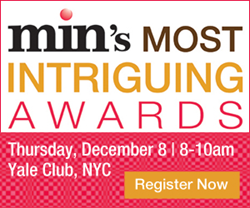 New York, NY (PRWEB) November 17, 2016
Every year since 2003, min has bestowed the honor of "Most Intriguing" upon 30 individuals in the magazine media industry. The people min selects for this honor are getting the attention of their colleagues, peers and the press for being gutsy and innovative. This year's honorees are exceptionally intriguing, hailing from companies like Time Inc., New York Media, Playboy Enterprises, theSkimm and more.
On Thursday, December 8, 2016 at the Yale Club in Midtown Manhattan, the magazine media community will salute these 30 individuals at the annual Most Intriguing Awards Breakfast from 8-10AM, hosted by the one-and-only Samir "Mr. Magazine" Husni. This well-known industry event attracts hundreds of media professionals each year for a morning of networking and celebration.
2016 Most Intriguing Honorees:

Amy Astley, Architectural Digest
Christene Barberich, Refinery29
David Carey, Hearst Magazines
Joanna Coles, Hearst Magazines
Michelle Ebanks, Essence Communications Inc.
Marc Ecko, Complex
Jay Fielden, Esquire
Michael Finnegan, Atlantic Media
Scott Flanders, Playboy Enterprises, Inc.
Laura Frerer-Schmidt, Women's Health
Richard Gingras, Google
Isaac Lee, Univision Communications Inc. (UCI)
Bob Love, AARP Media
Rajiv Mody, National Geographic
Emily Nussbaum & Kathryn Schulz, Pulitzer Prize Winners
Amy Odell, Cosmopolitan.com & Redbook
Allison Overholt, ESPN The Magazine
Connie Anne Phillips, Glamour/Self
Gavin Purcell, Vox Media
Maria Rodale, Rodale
David Rothkopf, Foreign Policy
Nate Silver, FiveThirtyEight.com
Shane Smith, Vice
Eric Thorkilsen, This Old House
Pamela Wasserstein, New York Media
Danielle Weisberg & Carly Zaken, theSkimm
Nathan Lump, Travel + Leisure, Editor of the Year
Jill Seelig, Dr. Oz The Good Life, Publisher of the Year
min will also honor the industry's Rising Stars and the 30 Hottest Launches of the Year at the same celebration on Thursday, December 8. Join the magazine media community in recognizing these remarkable professionals. Individual tickets and reserved tables are available for purchase. Click here to find full information regarding this event and to register.
For questions, contact Zoe Silverman at zsilverman(at)accessintel(dot)com or 301-354-1619. Sponsorship opportunities are also available. Contact Tania Babiuk at tbabiuk(at)accessintel(dot)com or 208-899-8498.
About min:
min is the industry's trusted source on the consumer and b2b magazine business, reaching thousands of media executives through print, online and in-person events. For more than 60 years, min has been serving the magazine and media community with unparalleled coverage of this ever-changing industry. For more information, visit http://www.minonline.com.