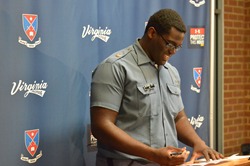 Fork Union Military Academy has sent more kids to Virginia Tech than any school in the nation. That says a lot about this place.
Fork Union, Virginia (PRWEB) November 16, 2016
Swimmers Tamas Novoszath and Tarek Aboelthana, baseball's Jacob Grabeel, PG basketball's LeAndre Thomas and PG football's Silas Dzansi signed National Letters of Intent Tuesday afternoon on the campus of Fork Union Military Academy.
Fork Union's first-ever student from Hungary, Novoszath is a distance specialist who will join the South Carolina Gamecocks swimming and diving program.
"Tamas came here with one college offer and ended up with numerous college offers. And we are excited to announce that Tamas signed with the University of South Carolina," commented head swimming coach Ryan Campbell. "He will be joining what is perhaps the best distance group in the world with several Olympians who just joined the roster this past year. We are looking forward to seeing him really take it to the next level."
One of several Egyptian students here at Fork Union, Aboalthana is a breaststroke specialist that will join Oakland University's swimming and diving program.
"In the short time Tarek has been here, he has made some drastic improvements. In the 100 breaststroke he dropped about a second and a half, and in the 200 breaststroke it's about five and a half seconds. He has taken off and instantly not being on too many radars to having offers from Pittsburgh, LSU, Oakland to quite a few colleges coming to the table all at the same time. We are excited to announce that Tarek as committed to swim at Oakland University, which is a really good mid-major Division I program," Campbell said.
Grabeel, who has seen time on the mound and behind the plate for the Blue Devils, will enroll at Bridgewater College next fall after he completes his final season this spring.
"I am very pleased to have the privilege to be part of what Jacob as done here at Fork Union," commented head baseball coach Rodney Carter. "As a ninth grader, Jacob has participated in a varsity sport. He has a great family that is supportive beyond belief and is right here locally from the county of Orange. He has decided to go to Bridgewater College and I know he is going to be successful there and not only on the field, but off the field as well be a great catch for them."
A St. Petersburg, Fla., native, Thomas is a center on the postgraduate basketball team who signed with the University of Maryland Eastern Shore and will enroll next fall.
"We have 10 postgraduate basketball players on campus with LeAndre being one of them," commented head PG basketball coach Matt Donohue. "Originally from St. Petersburg, Fla., LeAndre has spent the last two years in the Washington, D.C., area. He has a ton of potential as a basketball player to go in and contribute at the University of Maryland Eastern Shore. But I think the more exciting thing, is that LeAndre has great potential as a leader and someone that can contribute to the school and the campus as a whole."
Dzansi, a Woodbridge, Va., native, officially signed his NLI with Virginia Tech and will enroll in January.
"Our vision and our goals are in line with our school, but our vision is always place everybody, get everybody eligible and win every game," commented head postgraduate football coach John Shuman. "We have one guy that will make his signing true today. Silas Dzansi will sign today with the Hokies. Fork Union Military Academy has sent more kids to Virginia Tech than any school in the nation. That says a lot about this place. The left tackle, Yoshua Nijman and the right tackle who is also a captain of the team, Jonathan McLaughlin, are carrying the torch right now and Silas will join that offensive line group this January and be a tremendous contributor to that program."