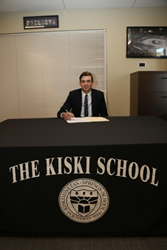 Golf Coach Mark Orsatti says, "Mark is the best golfer I can remember at Kiski in the last 40 years."
Saltsburg, PA (PRWEB) November 18, 2016
Kiski Senior Mark Goetz, son of Brian and Carla Goetz of Greensburg, PA, became the first-ever Kiski golfer to win a state title after carding a 75, at the 2016 PAISAA Golf Championship. Goetz has been a four-year member of Kiski's varsity golf team, lettered all four years and was captain for the past two seasons. Goetz has accepted an offer to attend and play golf for West Virginia University.
Over the past two years, Goetz has garnered other golfing championships and awards including: third place finish in the 2016 Northern Junior Open Championship in New Haven, CT, first place at the 2015 PGA Junior Series Championship in Westfield, OH, first place at the 2015 Westmoreland County Coaches' Association Championship, first place finish at the 2015 Westmoreland County Junior Amateur Championship, and a second place finish in the 2015 Western PA Golf Association Amateur Championship. Goetz's 2015 win in Westfield, OH, qualified him to play in the 2015 PGA Junior National Championship in Bryant, TX.
Goetz has been a Kiski Prefect for two years. A Prefect is a student who exhibits good judgment and maturity, contributes significantly to the life of the School, assists the faculty in numerous ways, counsels younger students, and helps residential leaders with evening study hall and other responsibilities. Prefects are selected based on their leadership abilities, academic excellence and campus involvement. Not only does Mark do well athletically, he also excels academically.
In addition to being a Prefect, he has been involved in basketball, community service, and other co-curricular and club activities. Goetz says, "Attending Kiski for four years has made me a better person. It has taught me about character, leadership, and resilience. It has also helped me become a better over-all student-athlete."
Kiski faculty member and golf coach, Mark Orsatti said, "Mark is clearly the best golfer I can remember at Kiski in the last 40 years – not only the best golfer in terms of scoring and results, but the best overall, multi-dimensional golfer I have ever known. He is widely respected for his integrity, dedication to the game, and as a fierce competitor – he plays well and to win. Mark is also a student of the game of golf, a technician and an equipment expert. In addition, he is a historian of the game, a statistician of the game – at all levels from middle school though amateur and professional. He possesses a deep knowledge of golf course care and his deft management of difficult shots is truly amazing."
The Kiski School is an all-boys boarding school serving grades, 9-12 and post-graduates. For 129 years, Kiski has witnessed a steady, substantial transformation while maintaining an intentional commitment to serving the unique learning needs of boys. Kiski provides an environment in which students can make the most of their potential as they grow in their knowledge of self and learn the mastery of academic disciplines and the value of athletic and artistic endeavors. For more information about Kiski, call 877-547-5448 or visit http://www.kiski.org. or http://www.facebook.com/TheKiskiSchool or https:Twitter.com\TheKiskiSchool.