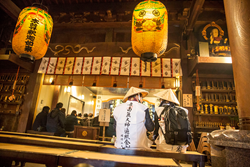 This sacred pilgrimage route connects 88 Buddhist temples and the full journey covers more than a thousand kilometers.
Kyoto, Japan (PRWEB) November 18, 2016
Oku Japan, the tour company specializing in off-the-beaten-track walking in Japan, is excited to announce the launch of its new small-group, guided walking tour 'Temples and Trails of Shikoku'. The tour focuses on Shikoku Island, home to the historic 88 Temple Pilgrimage Trail. The full pilgrimage route encircles Shikoku and connects 88 Buddhist temples, covering more than a thousand kilometers. Pilgrims still cover the route today to seek refuge from modern daily life, to spend time alone in reflection or to seek fulfillment of their prayers. To cover the full route takes about 40 to 50 days. Oku Japan has selected the most scenic sections of the trail, so clients can experience the special pilgrimage atmosphere.
The 13-day exploration begins with a stay on Mount Koya, the hilltop temple complex on Japan's main island of Honshu, where Shikoku pilgrims traditionally began or ended their quest. The tour includes much more than just the pilgrimage trail, visiting all four of Shikoku's prefectures with their own distinctive character, food and scenery, including the remote and lovely Iya Valley. Oku Japan's guests will have a chance to connect with local people on their travels and discover the exceptional hospitality of traditional inns in each area. They will enjoy regional cuisine, natural hot springs and benefit from the expertise of a professional English-speaking Japanese guide. The maximum group size is thirteen and the first departure will be on the 14th of May 2017.
Earlier this year, Oku Japan launched a self-guided version of this tour, becoming the first and only tour operator to offer a self-guided walking tour on this spiritual journey. Additionally, they were the first tour operator to offer self-guided walking tours on the Nakasendo (an Ancient Route linking Kyoto to Tokyo in Feudal times).
About Oku Japan: Oku Japan is a tour operator with a deep passion and strong knowledge of traditional Japanese culture. The company operates small-group guided tours, self-guided tours and custom programmes around Japan, providing unique off-the-beaten-track journeys for its clients. With offices in the UK as well as in Kyoto and on the Kumano Kodo trail, Oku Japan values community connections and can provide unparalleled local support to its guests.