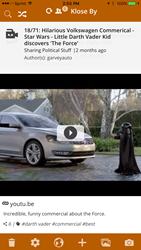 We envision Klose By as a timely solution to bring trust and personal privacy back into social media.
LOS ANGELES, CA (PRWEB) November 17, 2016
Unhinged Media today announced the launch of Klose By, a new Social Networking App for direct, device-to-device information sharing and networking - free of user accounts or content sitting in the Cloud.  Klose By creates a robust, private means for people to share content from the web or mobile apps. The App provides a platform to send posts, called Cards, either using special links via email, text and traditional social networks, or by allowing users to engage in local connectivity, establishing spontaneous, ephemeral networks supported by Bluetooth and/or Wi-Fi.
Online social engagement comes at a cost. Online privacy is compromised by corporate and government data mining, profiling and marketing. Every post, Tweet or Like users make and every gallery they share with the world is lasting and hard to remove. Many desire to broadcast their lives until the time comes when they realize that their sharing can have negative consequences for college or job applications, and is fodder that cannot be simply edited from their lives. 
Klose By creates a new opportunity for social interaction. The iOs and Android Apps encourage "Local Networking" and "Direct Posting."  Klose By provides the ability to embrace the best of online social networks and websites, and bring it into direct personal interactions. It is ideal for Meetups, gatherings and events where people possess a common interest based on their location. Klose By is the social network for people wary of their information and profile living in the Cloud. The App empowers users to collect items from the web, mobile apps and media libraries.  This diverse content can be shared using special Klose By links, or through local networking using Bluetooth or Wi-Fi networks. Klose By is unique in that it thrives both on and off the internet.
"We envision Klose By as a timely solution to bring trust and personal privacy back into social media. As we enter uncertain times, Klose By empowers users to exchange all types of content without being a prisoner of the Cloud," states developer Alan Finkel. "With Klose By, your content is yours"
Klose By Freedom is fully functional. Klose By Social adds unlimited sharing.