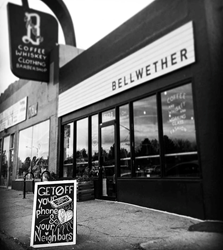 I love this city. I love this place. Lets give back to the community as a community
(PRWEB) November 21, 2016
Bellwether, a local coffeehouse, will be hosting a food bank to serve the people of Denver. On Wednesday, November 23rd, Bellwether will be serving hot meals to those in need, offering meals to families to take home to cook on Thanksgiving day as well as haircuts and manicures to those who have been without.
"I have a vision of being able to do family portraits for people after they have had a warm meal and a fresh haircut," said Bellwether founder Josh Schmitz.
Schmitz said the support from community members offering to donate their time and local business owners donating food or offering their specialty, has amazed him.
"I love this city. I love this place. Lets give back to the community as a community," said Schmitz.
The Food Drive will be held on Wednesday, November 23rd from 10am to 2pm at Bellwether. Bellwether is located at 5126 E Colfax Avenue, Denver, Colorado.
For interviews or additional information about the event, please contact brooke(at)veteranpr(dot)com.