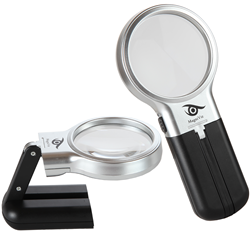 The MagniViz Magnifying Glass is designed to be a versatile tool which has a place in every household.
San Francisco, California (PRWEB) November 19, 2016
Lush Items announced today that their home office product - the MagniViz Magnifying Glass - is finally back in stock on Amazon in the US, after briefly running out late last week. As Lush Items discovered to their cost, there are several steps where a small company might stumble when attempting to get the right balance between running out of stock and ordering too much in preparation for the busiest time of year.
Restocking in time with enough inventory to last throughout the festive season is quite a skill. When sourcing from China, this means shipping by sea due to the large quantities of stock needed. So, having a reliable freight forwarding company is a prerequisite. The extra delivery time sea shipment takes must be factored in. Once the shipment has arrived at the sea port, it must then travel over land via road and rail, and at each stage of the journey there could be a delay of some kind. A further time period must be added for delays in receiving products simply due to the total number of other deliveries arriving at the Amazon warehouses at the same time in the build up to this busy period.
Julie Stevens, Sales Director of Lush Items, said, "We are so relieved to have our MagniViz back in stock in time for Black Friday and the festive season. We thought our restocking plan had enough contingency time built in to allow for various delays, but it seems we were over optimistic about the delivery times in the build up to the seasonal period."
After the relief of restocking in time for Black Friday through Christmas, in mid-December, attention must quickly be turned to reviewing stock levels with the aim of reordering products sourced from China. This is to avoid being caught out by the factory shutdown period for the Chinese New Year celebrations late January or early February. Ordering in December would ensure that products are manufactured and loaded onto the ships ready for transportation to the US before the Chinese festivities begin.
The sales team at Lush Items is always striving to improve the efficiency of their stock control process. Each time a reorder is made, there is always something new to learn. However, as always with small businesses, it's about getting the balance right between having too much stock and not enough.
The MagniViz is a multi-functional 3x magnifier with LED light, which can be used in hand held or hands free mode. It has many practical uses in the home, and can be used for hobbies which involve close up work, like beading, sewing or coin collecting. The integrated folding stand means it can be stored in a drawer as it takes up less space than a magnifier on a fixed stand. It is also light enough to be portable, so carrying it around in a backpack or purse is also an option.
The MagniViz Magnifying Glass is currently available on amazon.com at special seasonal price of $9.99, and comes with a full refund guarantee.