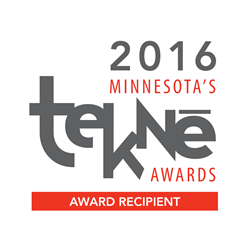 Being recognized for the Tekne Awards in the category of Applied Analytics further strengthens our position among the leading innovators for our entire industry.
MINNEAPOLIS, Minn. (PRWEB) November 17, 2016
FPX, a leader in enterprise Configure-Price-Quote® (CPQ) applications, was announced last night as the winner of the 2016 Tekne Award for Applied Analytics by the Minnesota High Tech Association (MHTA). Each year, the Tekne Awards honor Minnesota-based companies and professionals who demonstrate superior technology innovation and leadership.
FPX's suite of software applications helps large B2B businesses improve their complicated buying and selling processes by delivering an automated, B2C-style user experience across all of their sales and commerce channels. By doing so, FPX customers become easier to buy from, increasing revenue and customer retention. Founded in 1983, FPX has been a pillar of Minnesota's tech community for more than 30 years. While FPX's corporate headquarters are located in Dallas, Texas, the bulk of its product development and operations is split between its Minnesota-based offices in Mankato and Minneapolis.
Worthy of the 2016 Tekne Award for Applied Analytics, FPX's applications are uniquely embedded with predictive analytics intelligence to leverage customers' historical transaction data and provide users with prescribed up-selling and cross-selling capabilities.
"It's an incredible honor to be highly regarded in what has quickly become a hotbed for elite tech organizations here in the Twin Cities and the greater state of Minnesota," said Chris Lords, Chief Technology Officer of FPX. "Being recognized for the Tekne Awards in the category of Applied Analytics further strengthens our position among the leading innovators in the industry."
Tekne Awards were presented to 14 of Minnesota's most influential companies, recognizing innovations in education technology, energy, healthcare, software, workforce development, manufacturing, agriculture, cyber security, and information technology.
"Minnesota continues to be a national leader in technology and science, and this year's Tekne Award recipients are clear evidence of that," said Margaret Anderson Kelliher, president and CEO of MHTA. "We are honored to recognize FPX for their innovations and achievements."
For the complete list of 2016 Tekne Award recipients and finalists, visit http://www.tekneawards.org.
About FPX:
FPX is an independent SaaS vendor that provides a platform of cloud-based enterprise applications that optimize and automate quote-to-order selling processes, enabling companies to significantly enhance the speed, efficiency, and precision of sales across all channels. FPX empowers customers to transform manual sales processes into guided selling and personalized guided buying experiences. The FPX enterprise-caliber Configure-Price-Quote (CPQ) application enables customers to extend the capabilities of their existing enterprise systems and commerce platforms by optimizing and automating all quote-to-order business processes, including: configuration, pricing, quoting, contract management, workflow, e-signature, and data management. More information is available at http://www.fpx.com.
About Minnesota High Tech Association (MHTA):
MHTA is an innovation and technology association united in fueling Minnesota's prosperity. We help bring together the people of Minnesota's technology ecosystem and lead the charge in directing technology issues to Minnesota's state capitol. MHTA is the only membership organization that represents Minnesota's entire technology-based economy. MHTA members include organizations of every size − involved in virtually every aspect of technology creation, production, application and education in Minnesota. Find out more online at http://www.mhta.org or follow MHTA on Twitter at http://twitter.com/MHTA.