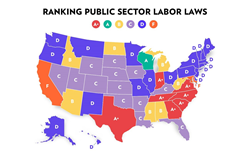 Harrisburg, Pa (PRWEB) November 17, 2016
Twenty-two states rank an abysmal "D" or "F" for the negative impact of their public sector labor laws on taxpayers and government workers. Thirteen fare little better with a "C," and just seven earn an "A+." These rankings are revealed in a first-of-its-kind 50-state public sector labor report released by the Commonwealth Foundation, Pennsylvania's free market think tank.
Transforming Labor: A Comprehensive, Nationwide Comparison and Grading of Public Sector Labor Laws evaluates 11 key measures that directly affect taxpayers and public employees.
"Public sector labor issues extend far beyond a state's right-to-work status," commented Elizabeth Stelle, director of policy analysis for the Commonwealth Foundation. "Even highly graded states will see areas for improvement, including transparency in contract negotiations, legality of worker strikes, workers' rights in leaving a union, and paycheck protection laws. These are reform areas that can guarantee greater protections of government workers' freedom of association."
The report reveals that only ten states have some form of paycheck protection, which prevents the use of public resources to collect political contributions for government unions. Additionally, just 12 states require government union contract negotiations to be open to the public. One lone state—Wisconsin—regularly requires government unions to hold elections to continue representing members.
Click here for an online, interactive comparison of state labor laws.
"Public-sector labor laws cut to the core of our liberties, including freedom of speech and freedom of association," Stelle continued. "That's why it's critical that states take steps to preserve these freedoms that are often trampled by little-known statutes and obscure collective bargaining agreements.
"The good news is that momentum for workers' rights is growing. While some states are embracing worker freedom through right-to-work laws, others are making negotiations over taxpayer-funded contracts more transparent, and still others are protecting workers who opt not to join a union. We fully expect this trend to continue in the coming years."
To produce the report, Commonwealth Foundation researchers combed through state-level laws, administrative codes, and regulations relating to public sector collective bargaining. Where no law or statutory provision existed, we examined local- and state-level labor agreements and used the designation "written in union contracts" to show how such matters are addressed at the negotiating table.
Elizabeth Stelle and other Commonwealth Foundation experts are available for comment. Please contact Gina Diorio at 862-703-6670 or gld(at)commonwealthfoundation(dot)org to schedule an interview.
# # #
The Commonwealth Foundation transforms free-market ideas into public policies so all Pennsylvanians can flourish.