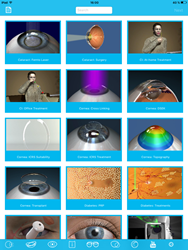 CAPTIV8 Share saves valuable time for eyecare professionals in communicating with patients. The ability to email patients with just a few taps helps educate patients, obtain informed consent and promote clinics.
Coventry, West Midlands (PRWEB UK) 21 November 2016
More than 40% of medical information is forgotten by patients immediately after consultation and almost 50% of what is recalled is incorrect. This can have a negative impact on compliance and patient satisfaction (Selic et al., 2011).
Receiving an email showing a recording of the doctors' explanation of diagnosis and treatment, that patients can watch at home, has been found to increase the patients' ability to remember instructions (Meeusen and Porter, 2015). Email communication can improve patient satisfaction (Leong et al., 2005), which in turn can help secure patient loyalty and increase the number of referrals.
Whilst more than 62% of healthcare professionals want to share online information with patients (Podichetty et al., 2006), email communication is time-consuming and most doctors see it as an "opportunity cost" (Brooks and Menachemi, 2006) and are concerned that emailing patients will bring a significant increase to their workload (McGeady et al., 2008).
To help eyecare professionals benefit from the advantages of email communication with patients, without increasing the time-investment needed, Optimed have launched the CAPTIV8 Share mobile app.
CAPTIV8 Share allows eyecare professionals to email patients with one or several animations either recorded during consultation or selected from the library of over 125 pre-recorded animations. The emails can include document attachments, such as informed consent forms, and videos available on the practitioners' YouTube channel.
The user can select one of the existing message templates to save time in sending emails.
There is no limit in the number of mobile devices users can install the app on. Any number of staff members can use the app to improve clinic-patient communication. Clinics can also offer the app to other healthcare professionals who may refer patients to them, e.g. GP surgeries, Opticians, Pharmacies.
CAPTIV8 Share can help eyecare professionals:

Improve treatment compliance – emailing patients with video explanations can improve patient understanding and recall of medical information.
Reduce marketing cost – it is more cost-efficient to retain existing customers than to attract new ones. Email communication can help secure patient loyalty.
Increase number of patient referrals - 68% of those receiving a video recording of their diagnosis or treatment explanation will share it with friends and family (Meeusen and Porter, 2015). The animations are shown on a page customised with clinic details, to help increase brand awareness.
Increase number of referrals from other healthcare professionals - the easy to use app can be installed on any number of devices.
"CAPTIV8 Share is a unique tool that saves valuable time for eyecare professionals in communicating with patients. The ability to email patients with just a few taps, choosing from a wide variety of pre-recorded animations or animations practitioners create themselves using CAPTIV8+, helps them educate patients, obtain informed consent and promote their clinics," said Dr Trusit Dave, Optimed Ltd. CEO.
Using CAPTIV8 Share can help improve patient understanding of diagnosis and treatment and reduce marketing cost through improved patient loyalty and increased number of referrals.
CAPTIV8 Share is available as part of standard CAPTIV8+ or CAPTIV8 subscriptions. It is powered by Optimed Ltd, the developers of CAPTIV8, the most innovative platform for patient education and clinic marketing, designed specifically for the eyecare industry.
For more information on CAPTIV8+ and CAPTIV8, visit http://www.optimed.co.uk
Trusted by thousands of people around the world, the CAPTIV8 brands go beyond animation to support you in achieving continued success. From generating more appointments, to bridging the patient understanding gap, to improving health outcomes, to ensuring patient satisfaction, the CAPTIV8 platform is designed to help improve your bottom line. Our platforms are the only tool you will need to save time on patient education and clinic marketing, so that you can remain focused on diagnosis and treatment.