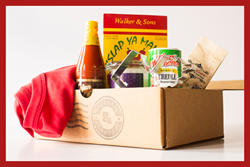 I'm trying brands that I never did while I lived in Louisiana. -Jennifer Gelston, Parish Parcel Subscriber
Lafayette, LA (PRWEB) November 22, 2016
Thanksgiving celebrates family, friends, and of course food. Parish Parcel (http://www.parishparcel.com), a Louisiana owned and operated company, knows that its home state celebrates the essence of Thanksgiving daily. The Louisiana culture has been built around food, family, and enjoying life to the fullest; it's no coincidence the monthly subscription service put an emphasis on local businesses this Thanksgiving.
"The local business community is our family," says Jaci Russo, owner of Parish Parcel. "We give thanks for the uniqueness they lend our home state every day. This month we wanted to share that feeling with our subscribers."
"I am excited about the Thanksgiving parcel. I'm sure there will be something yummy I can make for my Wyoming family," says Jennifer Gelston.
Jennifer is a subscriber to Parish Parcel. She says the "bit of home" delivered to her every month is memorable, but this month it will be truly special. She lived in Louisiana for 15 years before moving west and explains Parish Parcel always includes a variety of items, showing off everything she misses about the state.
"I'm trying brands that I never did while I lived in Louisiana. My boyfriend has visited Louisiana, but Parish Parcel gives him even more of a local experience; he's become just as excited as me to see what's in the box when it arrives!"
Parish Parcel's curated boxes come together with the help of Louisiana artists, chefs, musicians, and craftspeople. Each month 7 to 10 Louisiana tokens are chosen and shipped all over the country. You can look through partners past and present at http://www.parishparcel.com.
This month, Louisiana's family oriented culture will be on full display. Anyone can sign up for a subscription, or give the gift of the Parish Parcel Cajun curated experience to someone who is craving a little taste of Louisiana. Go to http://www.ParishParcel.com to sign up.