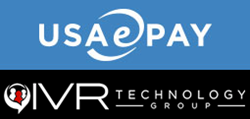 Our goal is to improve a customer's payment experience by giving them a choice of how to pay
Glendale, CA (PRWEB) November 21, 2016
USAePay, a leading payment gateway service provider, is proud to announce a partnership with IVR Technology Group, a leader in secure voice and text applications. By partnering with USAePay, IVR Technology Group will attract a wide range of industries looking to attain PCI Compliance Level 1.
"We are very excited to be working with the IVR Group" says Martin Drake, President of USAePay. "The offering will make the USAePay service more well rounded, and will give our Resellers more value-added service options."
IVR Technology Group's integration with USAePay will give merchants access to a variety of solutions to accommodate a business's needs. These solutions include, but are not limited to, voice, text and email outbound notifications, and IVR payment processing via phone, text, and web. Additional options include cloud services, visual IVR, call tracking capabilities, and other voice and text applications. IVR Technology Group's solutions will be beneficial to merchants in regards to better user experiences and overall business growth.
"By providing phone, text and web based payment applications, our goal is to improve a customer's payment experience by giving them a choice of how to pay," said IVR Technology Group's President, Akash Desai. "We take pride in creating better user experiences, while providing customers with the confidence that their data is secure. We look forward to a long and successful partnership with USAePay."
USAePay consistently works hard to find new and innovate solutions to improve the experience of merchants. IVR Technology Group's integration with USAePay allows merchants to have access to secure voice and text applications, which will provide them solutions to conduct business more easily while simultaneously taking their business one step further. For more information on how to integrate with USAePay, please visit http://help.usaepay.com/developer/guide.
About USAePay
USAePay is a family-owned business based in Los Angeles, CA. For over 15 years, the company has been assisting merchants with payment solutions to fit their needs. USAePay's payment gateway supports most of the major platforms in the credit card industry and works with some of the leading check platforms. USAePay is pleased to work with most of the larger merchant service banks in the US and Canada. For more information, please visit http://www.usaepay.com or call 866.USA.EPAY (872-3729).
About IVR Technology Group
IVR Technology Group's passion is to connect people to information in order to help companies improve customer experiences. IVR builds secure voice and text applications and focuses on compliance, data security and delightful user interactions. For more information, please visit http://www.ivrtechgroup.com or call 716.250.2800.
Media Contact: IVR Technology Group | Ashley Friedman, Director of Marketing | ashley.friedman(at)ivrtechnology(dot)com | 716-250-2800 |