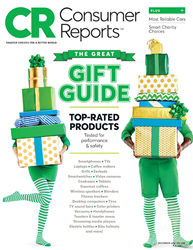 Our survey revealed that Americans' holiday hopefulness is pretty resilient and hasn't really wavered over the past few years, and that's very good news
Yonkers, NY (PRWEB) November 18, 2016
This year's holiday season will be greeted by Americans who are largely in good spirits, according to a new Consumer Reports Poll. Nine in ten Americans are looking forward to the holidays, including 28 percent who are really looking forward to it.
Though shoppers will begin the season in good spirits, their spending on gifts will be relatively flat. Americans anticipate spending a median of $563, up 6 percent over last year. And more plan to spend less money (26 percent) than more money (16 percent). The survey revealed a spending gap among demographic groups: Gen Xers plan to spend a median of $695, Baby Boomers will spend $672, while Millennials will spend just $453.
"Our survey revealed that Americans' holiday hopefulness is pretty resilient and hasn't really wavered over the past few years, and that's very good news," said Tod Marks, Consumer Reports senior projects editor and resident shopping expert.
Among the shoppers who plan to open their wallets a little more this year, their improving finances are a key factor. Sixty-four percent said they simply have more money this year vs. last; 54 percent said they're feeling more generous, or have more people on their gifts list; 45 percent reported they got a raise or better-paying job; 23 percent cited lower gas prices for their holiday season largesse; and 16 percent have people asking them for more expensive gifts than last year.
Though the poll was taken before Election Day, three quarters of respondents said the campaign season had not affected their mood about the upcoming holiday season. However, of those who said their mood had been affected, it was overwhelmingly in a negative way – 21 percent vs. just 4 percent who said they were positively affected. Nineteen percent said it made them more worried about spending money. A subsequent CR poll will reveal if Americans have changed their views in any way now that the election is over.
The Consumer Reports poll also revealed that nearly half (48 percent) of holiday shoppers plan to create a budget this year. Only 37 percent said they did so last year. Of those who did make a budget, 34 percent overspent – about the same as the amount who did so in 2015.
Though cash will still be king, plastic is expected to make a bit of comeback this year. Fifty-eight percent of shoppers plan to use their debit cards for purchases, up from 54 percent last year and 45 percent two years ago. Credit cards will be used by 44 percent of shoppers, up from 40 percent last year and on par with the 45 percent from 2014. Five percent of Americans who used credit cards during last year's holiday season still have unretired credit card debt from last holiday season.
Consumer Reports 2016 Holiday Polls are a series of nationally representative surveys designed to measure consumer sentiment and shopping behavior during the holiday season. Additional results from the Consumer Reports poll can be found at CR.org.
Consumer Reports Poll Methodology:
The Consumer Reports National Research Center designed a survey to explore general sentiment and shopping behaviors for the upcoming 2016 winter holiday season. In October and November 2016, ORC International administered the phone survey to a nationally representative sample of over 2000 randomly selected adult U.S. residents; 84% will be shopping this holiday season. The data were statistically weighted so that respondents in the survey were demographically and geographically representative of the U.S. population. The margin of error for holiday shoppers is +/- 2.4% at the 95% confidence level. Fifty-three percent of the sample was female, and the median age was 44 years old.
About Consumer Reports
Consumer Reports is the world's largest and most trusted nonprofit consumer organization, working to improve the lives of consumers by driving marketplace change. Founded in 1936, Consumer Reports has achieved substantial gains for consumers on food and product safety, financial reform, health reform, and many other issues. The organization has advanced important policies to prohibit predatory lending practices, combat dangerous toxins in food, and cut hospital-acquired infections. Consumer Reports tests and rates thousands of products and services in its 50-plus labs, state-of-the-art auto test center, and consumer research center. It also works to enact pro-consumer laws and regulations in Washington, D.C., in statehouses, and in the marketplace. An independent nonprofit, Consumer Reports accepts no advertising, payment, or other support from the companies that create the products it evaluates.
‒ 30 ̶
NOVEMBER 2016
© 2016 Consumer Reports. The material above is intended for legitimate news entities only; it may not be used for advertising or promotional purposes. Consumer Reports® is an expert, independent nonprofit organization whose mission is to work for a fair, just, and safe marketplace for all consumers and to empower consumers to protect themselves. We accept no advertising and pay for all the products we test. We are not beholden to any commercial interest. Our income is derived from the sale of Consumer Reports®, ConsumerReports.org® and our other publications and information products, services, fees, and noncommercial contributions and grants. Our Ratings and reports are intended solely for the use of our readers. Neither the Ratings nor the reports may be used in advertising or for any other commercial purpose without our permission. Consumer Reports will take all steps open to it to prevent commercial use of its materials, its name, or the name of Consumer Reports®.