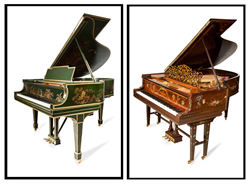 "I've always appreciated the artistic aspects of pianos, and now we've completely restored a group of true gems that are not only works of art but are capable of playing themselves. The perfect finishing touch for luxury home owners.
Bohemia Long Island, NY (PRWEB) November 18, 2016
Sonny's Luxury Art Case Pianos, a premiere restoration house for pre-owned art case Steinways and other brand name pianos, is breaking new ground with its curated selection of one-of-a-kind, luxury high-end pianos, which are also available with player systems. Sonny's Luxury Art Case Pianos President and CEO Sonny Stancarone, a longtime piano entrepreneur and piano dealer says "I've always appreciated the artistic aspects of pianos, and now we've acquired and completely restored a wide selection of true gems, It's turned out my fascination with these art case pianos is running concurrent with the trend of luxury homeowners now buying Steinways and other high end pianos that are collectors' items." Sonny routinely works with interior designers whose clients are looking for the perfect finishing touch for their dream homes.
The collection includes the "Prince's Love Piano," a million-dollar Steinway purchased by a Prussian prince in 1900 from the Steinway Hamburg, Germany, factory. The prince commissioned a master artist to create a series of Vernis Martin-style love scenes on the piano to immortalize his love for his princess. The piano itself is a Steinway Model A one of the finest instruments money could buy then and now.
Sonny's collection also includes another one-of-kind Steinway masterpiece, the "Green Chi," made in 1918 at the Steinway & Sons New York City factory and sold to a wealthy family in Buffalo, NY. The family commissioned a master of chinoiserie art to paint the piano green and create a series of stunningly beautiful chinoiserie-style landscape scenes on the piano that were of a 16th century royal nature preserve where wealthy people went to restore their life essence or chi. Sonny's Pianos restored both instruments and the artwork on these pianos over the past year. See more photos http://artcasepianos.tumblr.com/.
In addition to the Prince's Love Piano and the Green Chi Steinway, both of which were evaluated by art historians, Sonny's Collection also includes several hand-painted chinoiserie-style pianos, luxury Chippendale-style Steinways, a Victorian Steinway, a King Louis XV Steinway, a Marshall & Wendell Spanish Renaissance-style baby grand and many more. When Sonny works with interior designers he is often asked to customize a piano to match a specific decor sometimes with original colors and designs, or to create a specific work of art on the piano that sometimes includes gold plating and even gems, See photos and video tours of the full collection here http://sonnyspianotv.com/artcase
"We've just launched a new line, which I'm calling Sonny's Luxury Art Case Gemstone Collection, featuring a rare Steinway made in 1928," Sonny said. "This piano is one of only 100 created, and features Rocco-style hand-carved medallions reminiscent of royalty, which we enhanced with cultured pearls and 14-karat brooches with rubies. It's a true collectors item. We have several more like this already in the planning stages. Steinway and other manufactures don't build pianos like this anymore – these are truly exceptional pieces."
These high-end pianos are also available with PianoDisc IQ Player systems, an entertaining feature popular with music lovers, who can enjoy the sounds of live piano music without touching the keys.
About Sonny's Pianos
Sonny's Luxury Art Case Pianos, located in Bohemia, Long Island in New York, is one of the premiere restoration houses for pre-owned decorative art case Steinways and other brand name pianos. Sonny buys and restores luxury and traditional-style pre-owned Steinways and other pianos, selling them to discriminating clients in a worldwide market. Sonny's team of furniture specialists, piano technicians and artists return the sound and appearance of these majestic instruments to their original elegant and beautiful condition. Sonny is donating a portion of the sales of these two masterpieces to Juvenile Diabetes Research Foundation (JDRF) Long Island Chapter to fund research for treatments and therapies for Type 1 Diabetes. To learn more, visit Sonny's Bohemia, Long Island showroom or view videos and photos of his inventory on http://www.SonnysPianoTV.com/artcase. Private showings of Sonny's Luxury Art Case Pianos are available by appointment only, by calling 631-475-8046.