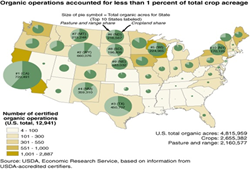 As an agri-technologist and advocate for healthy lifestyles with good nutrition, I simply see no need to compromise the nutritional value and the rich biosystem of growing produce in soil using organic methods in order to grow produce indoors, year round.
St. Louis, MO (PRWEB) November 18, 2016
The National Organic Standards Board (NOSB) is meeting this week in St. Louis to resolve, among other things, whether hydroponic grown produce can be certified as organic produce.
In April of 2010 the NOSB recommended rulemaking action to the National Organic Program that stated in part: "Growing media shall contain sufficient organic matter capable of supporting natural and diverse soil ecology. For this reason, hydroponic and aeroponic systems are prohibited".
As of 2016, the USDA's NOP has still not issued a proposed rule or established regulations based on the 2010 NOSB recommendation against the inclusion of hydroponics in the organic program, nor has the NOP issued guidance to certifiers allowing for such. This confusing situation means that certifiers must interpret the regulations on their own making it uncertain if any non-soil based grow method can be certified or maintain an organic certification. (see "Is Hydroponic Organic")
"It seems that the NOP has been the policy organization of uncertainty while the NOSB has been very clear and consistent on its expert recommendations for over a decade," says James Massa, founder of Sustainable Essentials Enterprises, LLC. "I am strongly advocating for the NOSB to maintain their position that organic certified produce must be grown in soil and hope that the NOP clarifies its guidance to certification agencies upon receiving such."
Field soil is not the rich ecosystem it once was. Of the 389 million acres of cropland in the U.S., only 315 million acres provide harvest and less than 1 percent is certified organic. Regulatory requirements delay the transition from conventional to between three and five years while the soil rids itself of chemical pesticides and herbicides and the like that are deemed uncerifiable.
New hydroponic methods grow using non-soil or no soil, omitting all but the 3 primary nutrients plants need to grow(nitrogen, phosphorus, potassium – NPK). The result is that many food's taste, texture, and nutritional value have been compromised. However, some see hydroponic as the only way to grow produce year round and to bypass the delay for conventional to become organic qualified.
James Massa, formerly a High Tech executive for Cisco Systems and Green Tech consultant to industry, has founded Sustainable Essentials Enterprises, maker of the SuperGrow Container™ and SuperGrow Centers™. Massa indicates there is an alternative to field chemicals or hydroponic solutions, something he refers to as "Terraponics."
Experts, such as two-time Nobel Laureate Dr. Linus Paulling, have long argued and shown through their research that healthy lifestyles are dependent on receiving micronutrients and trace miniterals which are intrinsically part of a soil based organic biosystem. There are seven essentials micronutrients plants need which provide them with better resistence to pests, reduction of fungus, and increased yeild.
"There is simply no need to compromise the nutritional value and rich biosystem of growing produce in soil using organic methods in order to grow produce indoors, year round. These goals are not mutually exclusive. We have shown both can be accomplished. Using our Terraponics grow apparatus, we enable produce to be grown local, fresh, year round, and in soil."
Demand for organic produce far exceeds supply. According to USDA sources, over 60 percent of all organic produce comes from outside the United States in the off season and there are vast parts of the United States with limited organic production any season. (see map of United States). Massa comments on this lack of supply, "We believe use of indoor, soil based, organic solutions can double the organic production of many produce items in the United States within 3 to 5 years while soil is in transition."
"Solutions such as the SuperGrow Container™ address the systemic issues that compromise healthy produce being available to consumers. This includes the agricultural aspects of growing in soil, the regulatory aspects of providing a grow environment that can be certified as organic without having to wait the three to five years, and the ability to grow large volumes of produce close to the retail outlets and consumers thus eliminating the produce loss in field farming."
"Each SuperGrow Container™, which is the size of a shipping container, can grow between two to four acres of field produce annually-", Massa says. "A SuperGrow Center™, which is the SuperGrow Terraponics technologies moved in to a warehouse setting, can be equivalent to as much as twenty acres, in a fraction of the space and can be located nearby the retail outlets and consumers."
"Fundamentally, Sustainable Essentials' SuperGrow Container™ is trading off the energy to grow produce close to the retail outlets and consumers with the embedded fuel costs, refrigeration costs, and packaging costs to grow it in fields and distribute it as is done today." Massa continues, "We are already competitive in our pricing versus field grown produce. However, with our next generation of advances, we will soon have the ability to operate as field grown produce, by growing "off-grid", year round utilizing solar and wind alternative energy sources. When that occurs, organic field farming will be able to focus on what it does best with large grain and root produce while indoor organic farming addresses the highly volatile produce."
Right now what is to be decided by the NOSB is whether produce grown using hydroponics can be certified organic in the same way field grown produce or terraponic grown produce can using organic soil and methods
###Sustainable Essentials Enterprises manufactures and offers the SuperGrow Container™, the only container farm solution that is soil based and guarantees organic certification. The SuperGrow pink LED lighting, patented magnetically assisted motor technology, and water re-usage processes provide the lowest operational cost and soon will have options to operate completely off-grid using solar and wind technology. Along with more nutrition and great taste, SuperGrow produce has up to 10 days longer shelf life. SuperGrow Containers™ are available for purchase or lease. Licensing, training, and support is available for interested entrepreneurs. For large enterprise customers and smaller interested, but passive investors, a turnkey operation is offered.